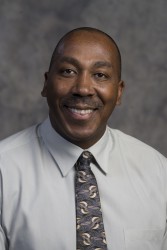 Sentwali Bakari
Drake University's event in celebration of the life and teachings of Martin Luther King Jr. that was scheduled for tonight (7 p.m. Jan. 25) will be postponed due to the winter storm. The University will announce a new date and time for the event as soon as possible.
The celebration, which is free and open to the public, will examine the past, present and future of King's legacy and challenges. Sentwali Bakari, dean of students, will give the keynote address on "The Legacy of Dr. Martin Luther King: Leadership Challenges for All."
The Drake Gospel Choir and Cornerstone Family Church Ambassadors of Praise Choir also will perform. A dessert reception will follow.
A longtime advocate for leadership development, Bakari has previously presented at state, regional and national conferences on topics including Dr. King's legacy, social justice and challenging African American men to greatness.
The former president of the Iowa Student Personnel Association, Bakari was recently awarded the ISPA 2009 Distinguished Service Award. He also is a member and graduate of the Greater Des Moines Leadership Institute and serves as a lead facilitator for the national LeaderShape Institute.
Bakari holds a doctoral degree in college student personnel administration from the University of Northern Colorado. He also holds a master's degree in education and a bachelor's degree in political science from the University of Wisconsin-La Crosse.
For more information, contact LaTasha Stiger, director of campus programming, at 515-271-3711 or latasha.stiger@drake.edu.