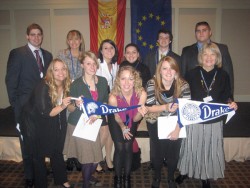 Professor Eleanor Zeff, far right, with the Drake group at the opening plenary session.
Ten Drake students are representing the United Kingdom and Poland this
week in the State University of New York (SUNY) Model European Union
Simulation at the University of Limerick in Limerick, Ireland.
The students are simulating a European Council Summit. This entails
many meetings of different EU institutions, but culminates in a weekend
meeting to propose new policies, which have been discussed and agreed
upon during these previous meetings.
The simulation involves a total of more than 125 students,
including students from several SUNY campuses, as well as numerous
European countries.
Participating students learn about the European Union while gaining
the opportunity to interact with students from EU member and candidate
member states.
All students are assigned a role as a representative of a larger
delegation as heads of government, foreign ministers, EU commissioners,
or even, for journalism majors, as members of the press corps. Students
have been preparing for the simulation at their own universities, with
the help of faculty advisers.
Eleanor Zeff, associate professor of politics and international
relations at Drake, serves as faculty adviser for the Drake students, who are sharing some of their experiences in a blog.
Zeff
has considerable experience with the Model European Union Simulations.
She accompanied six Drake students to a 2008 simulation in Izmir,
Turkey. Last year, she went with a group of Drake students to the
Midwest Model European Union in Indianapolis, where Drake teams earned
three first-place awards.
As part of the simulation in Ireland, Zeff is teaching a course on
Ireland and the European Union. Drake students participating in the
simulation are enrolled in the course, which covers the formation of
the Irish state, the political design of the Irish constitution,
electoral and party systems, and relations with the United Kingdom,
especially as they pertain to the contested territory of Northern
Ireland.



Drake students visit King John's castle in Limerick.
Following the simulation, Zeff and most of the Drake students will
take an eight-day academic tour of Ireland led by Kathleen Dowley,
professor of political science at SUNY New Paltz. The tour also
includes guest lectures by University of Limerick faculty on subjects
such as "The Irish War for Independence from United Kingdom" and "The
EU and the Conflict in Northern Ireland."
In addition to attending lectures, the students will tour famous sites, including Blarney Castle, the Skiberdeen Museum on
Famine, the Waterford Crystal Factory in Waterford City and the Irish
Parliament in Dublin. The group then moves to Northern Ireland, where
students will visit offices of Sinn Fein and Ulster Unionist parties in
Belfast, among other sites.