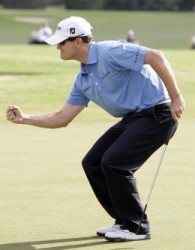 Zach Johnson
Professional golfer Zach Johnson, BN'98, is entering the new year as an Iowan of the Decade, having been recognized among celebrities, philanthropists and hometown heroes in an article by the Des Moines Register.
The Register staff honored Iowa natives who were identified as intriguing, influential and offering inspiration throughout the first decade of the 21st Century. The list also included philanthropists John and Mary Pappajohn, actor Ashton Kutcher and the late Ed Thomas, a renowned football coach from Parkersburg, among others.
Johnson was noted for his championship at the 2007 Masters, where he was fitted with the fabled green jacket and emerged as a golfer of worldwide prominence. Yet even in the wake of his success, Johnson revealed his humble character and hometown roots.
"I'm Zach Johnson, and I'm from Cedar Rapids, Iowa," he said following the victory. "That's about it. I'm a normal guy."
Rivaled at the 2007 Masters by some of the game's greatest champions, including Tiger Woods and Retief Goosen, Johnson shot a final round three-under-par 69 for a 289 total in his career-changing two-shot victory.
Nearly three years later, he heads into the 2010 season with six victories in a six-year PGA Tour career — a record unmatched by any Iowan — as well as a Top 20 world ranking and no intention of easing up.
"Clearly," Johnson said, "I can improve in all facets of my game."