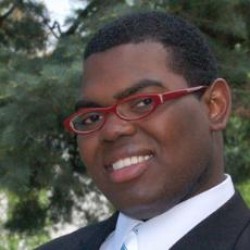 Earl Lee
Jamaican native Earl Lee saw opportunities at Drake University that he couldn't find at home.
"My decision to come to the United States was that I wanted to experience something different, get a first-world education and try and broaden my scope beyond Jamaica," Lee told Voice of America in an interview for America's Global College Forum. "I've been there for 18 years and I've seen what it has to offer and I wanted to get something new."
Listen to Lee's interview on the Voice of America Web site. Comments about the interview can be posted on the Web site.
Lee's interview aired several times in December on VOA, a
multimedia international broadcasting service funded by the U.S. government through the Broadcasting Board of Governors. VOA broadcasts
approximately 1,500 hours of news, information, educational and
cultural programming every week to an estimated worldwide audience of
125 million people.
At Drake, Lee became involved in the Residence Hall Association and was selected to be a resident assistant his sophomore year, a position he still holds as a junior. He's also been active in the Donald V. Adams Leadership Academy. In addition, he appreciates the chance to participate in community service projects. "The involvement that Drake has with the Des Moines community is amazing," he said.
He credits Drake with providing him with many opportunities to broaden his leadership styles and skills. He also appreciates the other international students who contribute to the diversity of the student body. "Being able to interact with students from Ghana, Nigeria, Russia and those kinds of places is great, so being able to gain an opportunity to see diverse viewpoints is amazing," Lee said.
"In Jamaica, it's more Jamaicans there and people from the Caribbean, which doesn't help to diversify the viewpoints that we may have. So, it's given me that outlook on the world and it's been really amazing."
Lee is majoring in both politics and sociology and especially enjoys his classes in international relations and comparative political systems. He hopes to attend graduate school to study criminology.
He is a staunch advocate of study abroad programs for all students.
"Studying abroad in general, it's an amazing opportunity for anyone," he said. "It allows you to broaden your sense of self, it allows you to find out what you like, your creativity, and it diversifies you and your viewpoint and it gives you a great cultural experience."