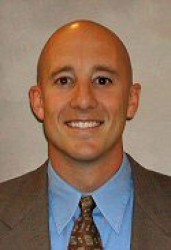 Luke Meier
Luke
Meier , assistant professor of law at Drake University, recently was
appointed by the Iowa Supreme Court to serve on the state's
Task Force for Civil Justice Reform.
Meier
joined Drake Law School in 2007 after teaching at the University of
Nebraska-Lincoln College of Law, where he was twice named as Professor
of the Year. Meier has also served as an assistant attorney general in
the Texas Attorney General's Office and as an associate in the Vinson
& Elkins law firm in Austin, Texas. His areas of expertise include
the federal courts, American legal history, natural resources, property
and torts.
He is one of 14 members of the new task force, which
has been directed by the Iowa Supreme Court to develop a plan for a
multi-option civil justice system.
"It is an incredible honor,
and responsibility, to be named to the task force," Meier said. "I
look forward to working on the important issues and problems identified
by the Iowa Supreme Court."
The task force's plan will include
proposals for new court processes and improvements in current processes
that will foster prompt, affordable and high-quality resolution of
non-domestic civil cases. Iowa's current civil justice system,
especially in cases involving smaller- to medium-sized claims for
damages, is costly, unnecessarily complicated and slow, according to
the Iowa Supreme Court.
These problems deter some litigants
from pursuing valid claims and prompt others to settle claims of
questionable merit. The hassles, handicaps and high cost of civil
litigation impede access to justice.
"It is time," stated the Iowa
Supreme Court, "to redesign our civil procedures so they are
straightforward, flexible, tailored for certain types of cases,
expeditious and affordable for all litigants."
To address these issues, the task force will:

Identify the strengths and weaknesses of the present processes for resolving non-domestic civil cases
Examine innovative civil litigation procedures and programs used in
other jurisdictions or recommended by other civil justice reform
groups, and from these procedures and programs identify those that hold
the most promise for Iowa litigants and the public-at-large
Develop a collection of proposals for new procedures and improvements to current procedures.
The task force is expected to present its findings and recommendations to the Iowa Supreme Court by June 30, 2011.