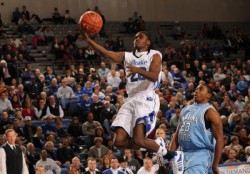 Josh Young
Seniors Josh Young and Adam Templeton were tabbed as the Prairie Farms/Missouri Valley Conference (MVC) Scholar-Athletes of the Week for their performances last month.
Drake guard Young of Lawton, Okla., was recognized for the week of Dec. 21-27, following the Bulldogs' game vs. San Diego State on Dec. 22. During that game he recorded 17 points, four rebounds, two assists and a steal.
Young, who maintains a 3.21 cumulative grade-point average in marketing and management, rallied the Bulldogs from a five-point deficit with his team-high scoring output, but the Aztecs triumphed in overtime, 76-73.
In addition, Young is one of 30 NCAA candidates for the 2009-10 Lowe's Senior CLASS Award, which recognizes notable achievements in the classroom, character, community and competition. The winner will be announced at the 2010 NCAA Men's Final Four in Indianapolis in April.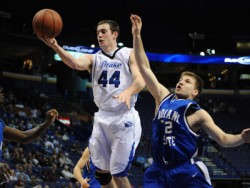 Adam Templeton
Templeton, Drake's forward of Rapid City, S.D., was honored in the period of Dec. 7-13 while earning most valuable performer honors in the Bulldogs' championship of the 2009 Drake Invitational. The Bulldogs defeated South Dakota (96-81 on Dec. 11) and Binghamton (77-76 on Dec. 12).
Templeton, who has a 3.24 cumulative grade-point average in marketing and management, averaged 16.5 points, 12.0 rebounds and 4.0 three-point baskets in two games. He enjoyed his second career double-double with 17 points and a 2009-10 MVC-high 16 rebounds against South Dakota.
To qualify for Prairie Farms/MVC Scholar-Athlete of the Week laurels, student-athletes must carry a cumulative grade-point average of 3.20, have completed at least one academic year at an MVC institution and must be at least a sophomore in academic standing.
"Our continued corporate partnership with Prairie Farms provides an important vehicle by which to honor our top student-athletes," said MVC Commissioner Doug Elgin. "Our student-athletes are the league's best representatives, and we're happy to recognize Adam (Templeton) and Josh (Young) for their athletic and academic achievements."
Now in its 11th year of existence, the Valley's Scholar-Athlete program is sponsored by Prairie Farms, Roberts and Hiland Dairies. On a weekly basis, the conference honors its student-athletes for their athletic performance for a one-week period and academic success in the classroom.
The Bulldogs last hosted Indiana State, which used a 21-4 run to close out the game to take a 60-46 Missouri Valley Conference victory over Drake on Sunday night (Jan. 3). Read the full recap online.
The Bulldogs will face Creighton at 7:05 p.m. tonight, before taking on Southern Illinois at 6:35 p.m. Saturday, Jan. 9. Both games will be covered on KRNT Radio.