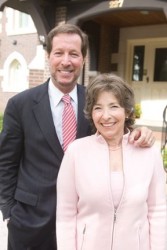 David and Maddy Maxwell
President David and Maddy Maxwell marked their 10th anniversary at Drake by organizing a moveable feast to convey their appreciation for the entire faculty and staff.
Beginning in late August and continuing into November, the Maxwells made 24 visits to Drake's various colleges, schools and departments. They arranged for Sodexo Campus Services to serve special treats at the events, which ranged from breakfast gatherings to afternoon snack sessions.
"It was a lot of fun for us to see all of the departments and to serve some specialty items," said Sodexo Catering Director Brett Lindman. "The Akuri wraps went over very well and so did the walnut scones and strudel sticks. The Sodexo staff was invited to one of the events and all of us enjoyed being included in the Drake family."
One final get-together with the president and first lady is being planned for the spring semester for those who were unable to attend their departmental or college visit.
"We wouldn't still be here after 10 years if it weren't for such a fantastic crew, so we decided we would visit everybody to say thanks for enriching our lives and the University," Maddy Maxwell said at a gathering of staff from Human Resources, International Programs and Real Estate.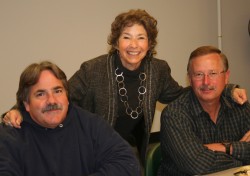 "It's not a meeting; it's a party," Maddy Maxwell tells Ron Smith, left, and Dan Garringer of Drake Real Estate.
"We celebrated 10 years at Drake last May and we really did
celebrate," President Maxwell added.
"We wanted faculty and staff to
share in our celebration. Since it wasn't practical to have all 809
faculty and staff members come to our house for a party, we decided to
make this a moveable feast on campus. It's our way of thanking you for
everything you do for Drake."

The traveling celebration has proved popular.
"President and Mrs. Maxwell have taken great care to make sure
everyone at Drake knows how important they are to the success of the
University," said Venessa Macro, director of human resources and
assistant vice president for business and finance.
"The anniversary
tour is another example of that as they graciously included the campus
community in the celebration of this significant milestone."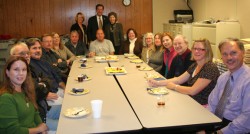 Linda Ryan, David and Maddy Maxwell meet with staff members at The Point.
Hannah Bretz, major gift officer for Drake Law School, said the
campus visits demonstrate President and Maddy Maxwell's extraordinary
dedication to the University.
"Both David and Maddy make a point of getting to know faculty, staff
and students on a personal level, and their commitment to thanking us
for our efforts brings us closer together as a Drake family," Bretz
added. "We are incredibly fortunate to have such motivational and
dedicated leadership in our president and first lady."
President Maxwell shared several points of pride with faculty and staff at each gathering. He noted that:
Drake ranked in the top 10 in eight categories among
master's institutions in the 2009 "Great Colleges to Work For" national
survey published by the Chronicle of Higher Education.
The
University improved its overall ranking and moved up to sixth place in
the "Great Schools, Great Prices" category for Midwest master's
institutions in the annual college rankings released by U.S. News and
World Report magazine.
In comparing raw scores for peer
assessment of academic quality, Drake is in the top five out of 584
master's institutions ranked by U.S. News.
While two-thirds
of private colleges and universities were cutting or freezing salaries
due to the recession in 2009-10, Drake provided a pool for salary
increases of 3 percent.