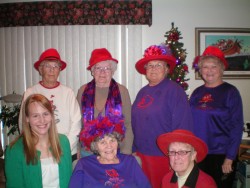 First row: Jane Thilmany, Clara Wiebers, Dorothy Schneller, Lucy Leibert; second row: Karen McManus, Marian Winkelmnann and Vicky Willis.
In her fourth year of Drake's Professional Pharmacy Program, Karen McManus is putting her knowledge in community pharmacy to use.
She recently took her education into the community to make a presentation on "Avoiding Medication Mishaps" to a group of Red Hat Ladies in Camanche, Iowa.
Her grandmother, Marian Winkelmann, is a member of the Red Hat Ladies and McManus saw the perfect opportunity to share her education on medication safety with senior citizens.
McManus' pharmacy preceptor, Kristin Meyer, assistant professor of pharmacy practice in the College of Pharmacy and Health Sciences, encouraged McManus to adapt her presentation for the audience in Camanche.
"Dr. Meyer knew I was really interested in community pharmacy and felt this would be a great way for me to get involved back in my hometown," McManus said.
"I focused my presentation on what I felt would be appropriate for the Red Hat group. I shared tips on taking medication safely, described what an adverse drug reaction could be and how to avoid common drug interactions."
The presentation addressed adverse drug interactions, when one drug alters the effect of another drug when taken together. Some symptoms from this reaction may include new conditions or illness, weakness, dizziness, constipation and depression.
McManus noted that each person reacts differently to medications and suggested ways to detect and prevent symptoms from adverse drug reactions.
She also made suggestions about taking some medications with or without food and setting reminders and alarms to stay on a regular schedule when taking medications.
When asked why she's taking time out of her schedule to increase awareness about medication use, McManus said she's inspired to share information.
"It is the little things that people need to know about their medications that can help prevent problems in their drug therapy," she said.
She expressed her concern that people aren't always willing to ask a physician or pharmacist a "silly question." McManus is determined to change the pattern.
"Giving this presentation allowed me to see what information people don't necessarily know about their medications. I will be able to utilize this in practice in counseling patients," she said.
"It is important to help people become more comfortable in reaching out to those in the health care profession in general. Someday they'll come talk to me when I'm a practicing pharmacist in the area."