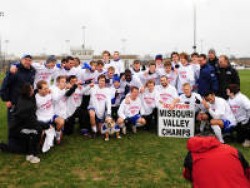 On the heels of its run in the NCAA Men's Soccer Tournament, the Drake men's soccer team recently checked in at No. 8 in the final National Soccer Coaches Association of America (NSCAA) Top-25 National Poll.
The highest ranking in school history shatters last season's ranking when Drake was tabbed at No. 19 in the Sept. 30, 2008 NSCAA poll.
The Bulldogs also rated eighth in the final 2009 NCAA Rating Percentage Index (RPI).
"To be ranked in the top 10 in both RPI and the NSCAA Coaches' poll is beyond our greatest expectations," said Drake Head Coach Sean Holmes. "We always thought we could build something special and I think this is validation of how far we truly have come as a program."
Drake, which made its second consecutive NCAA Tournament appearance, established a school record 16 wins en route to posting its first-ever NCAA Tournament victories with wins over Western Illinois (2-1), No. 13 Ohio State (1-0, OT) and Boston College (6-4).
The Bulldogs were 3-1 following their 6-4 victory at Boston College.
The team's legendary run through the tournament ended with a 2-1 victory for the North Carolina Tar Heels in the quarterfinals at historic Fetzer Field. The full game recap is available online.
The Bulldogs led the NCAA Tournament in goals per game (2.50), while ranking second in total points (29), goals (10), total assists (9) and third in assists per game (2.25).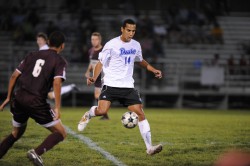 Garrett Webb
Webb headlines four Bulldogs named to NSCAA All-Midwest Region Men's Soccer Squad
Senior Garrett Webb (Prairie Village, Kan./Shawnee Mission East) led four Drake men's soccer players named to the NSCAA All-Midwest Region team.
Tabbed as a repeat first team honoree was Webb, while first-team All-MVC selections and fellow seniors:
Julien Edwards (Ottawa, Ont./De La Salle), second team recipient
Kevin Shrout (Lee's Summit, Mo./Lee's Summit), third team recipient
Luke Gorczyca (Overland Park, Kan./St. Thomas Aquinas), third team recipient
Starting all 24 games in which he appeared, Webb, the 2009 Missouri Valley Conference Player of the Year, paced the Bulldogs in goals (13), points (31), shots on goal (26) and game-winners (3), while ranking second in shots (50) and fourth in assists (5). His 13 goals tied a single-season school mark for goals, while he also rated second in single-season points with 31. He ranked fourth in game-winning goals (1) and seventh in total goals (2) in the NCAA Tournament this season.
Webb also is the second Bulldog men's soccer player to earn All-America status with his selection to the NSCAA and College Soccer News second and third team All-America squads, respectively.
Webb joins former Drake and Major League Soccer standout Ezra Hendrickson, BN'94, who collected third team accolades in 1993. They are the only Bulldogs to garner All-America playing honors in program history and Webb represented the sole selection for the Missouri Valley Conference this season.
Edwards, a member of the all-region third team as a junior, started all 23 games he appeared in and helped lead Drake to eight shutouts, while adding a goal on 10 shots.
He also was one of 62 Division I college seniors to be invited to participate in the 2010 Adidas Major League Soccer Player Combine in Ft. Lauderdale, Fla., from Jan. 8-12.
The coaching and management staffs of all 16 MLS teams will be in attendance to scout talent at the combine, which will conclude two days before the 2010 MLS SuperDraft in Philadelphia. Read the full story online.
Shrout, a second team honoree as a junior, started all 24 games that he played in this season and led the Bulldogs in assists (8) and shots (55), while ranking second in points (18), shots on goal (19) and game-winners (2) and fourth in goals (5). His 55 shots represented the fifth-best single-season mark in school history. Shrout rated third in the NCAA Tournament in total shots (13), seventh in total goals (2) and fifth in total assists (2) and total points (6).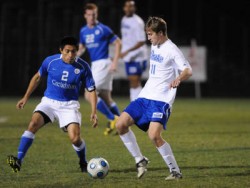 Luke Gorczyca
Gorczyca, who was named to the third team as a junior, started all 25 games for Drake this fall and led the team in game-winners (3), while ranking second in goals (7) and fourth in both points (16) and shots (32). He established a new school record for career games played (82). His two goals in the NCAA Tournament at Boston College stand as the second-best single-game mark in tournament play, while he also ranked first in game-winning goals (2), second in total goals (3) and fifth in total points (6).
Gorczyca and Shrout named Second Team Academic All-America selections
The Drake men's soccer team added hardware to its record-breaking campaign as Gorczyca and Shrout were named to the second team NSCAA/Adidas Men's College Scholar All-America Team. The full story is available online.
"This probably excites me as much as anything we've achieved over the last couple of years," Holmes said. "To have accumulated so many academic honors by really good players was what we've always wanted to do all along."
The team selects student-athletes of at least junior academic standing, who have maintained at least a 3.30 cumulative grade-point average (on a 4.0 scale) throughout their career, started more than 50 percent of all games and contributed significantly to the team.
Gorczyca, a corporate finance major who maintains a 3.59 grade-point average and Shrout, a management and marketing major who holds a 3.40 grade-point average, lead six Bulldogs named All-Midwest Region Scholars:
Gorczyca, first team selection
Shrout, first team selection
Calvin Clark (Overland Park, Kan./St. Thomas Aquinas), senior, first team selection
Matt Kuhn (Raytown, Mo./Raytown South), junior, first team selection
Nick Foster (West Des Moines, Iowa/Valley), junior, second team selection
Brian Wurst (Kansas City, Mo./Park Hill South), senior, second team selection
Ted Schleisman (Verona, Wis./Middleton), junior, second team selection