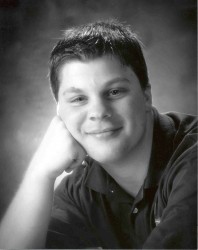 Matt Selsor
Matt Selsor has been named the new director of Drake University's Anderson Gallery after working at Chicago's Gallery 400 and the National Museum of Mexican Art.
Selsor, who began his duties at Drake in December, received a bachelor's degree in art history from the University of Arizona in 2004.
He recently earned a master's degree in art history from the University of Illinois at Chicago, where he also received a Certificate of Museum Studies in 2007.
"I intend to continue the gallery's mission of unique and educational exhibitions and programming, as well as promote the growth and understanding of visual culture through exhibitions, gallery talks, workshops and publications," Selsor said.
"I would like to see the gallery become ever more interdisciplinary and reach out to departments and specialists across a wide range of humanistic disciplines, as well as expand the gallery's presence in the Des Moines community."
His research interests include museology, American art and modern Mexican art.
A past resident of Chicago, Selsor curated "The Circle Years: 1965-1982" at the Chicago campus of the University of Illinois in 2008.
Selsor is curator for the Anderson Gallery's next exhibit, "To Know the Land" by Scott Robert Hudson, which opens Friday, Jan. 29.
The exhibit will run through Friday, Feb. 26, and features dynamic visuals of natural sculptures and two-dimensional works of art accompanied with thought-provoking storytelling. An opening reception is planned for Jan. 29 from 5-7 p.m.
Gallery hours are noon to 4 p.m. Tuesday through Sunday at the gallery in Drake's Harmon Fine Arts Center.
Other upcoming Anderson Gallery exhibits (subject to change):

Saturday, March 6

— 39th Annual Juried Student Art competition and exhibit, opening reception March 7 from 11 a.m. to 1 p.m. Award ceremony at noon.

Friday, April 2

— "CARBON," opening reception April 2 from 5-7 p.m.

Friday, April 23

— Bachelor of Fine Arts Exhibition, opening reception April 23 from 5-7 p.m.