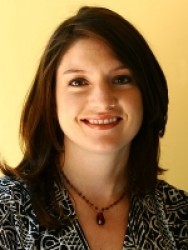 Abbey Klaassen
Abbey Klaassen, JO'02, recently was named executive editor in charge of all editorial operations for Advertising Age publications in New York City.
The position, she said, is one she got thanks to her career in the journalism field and experience at Drake.
"Much of what I learned was in the field and on the job, and Drake did certainly set me up in that way," Klaassen said, "by helping me find a number on internships — including a summer one at Ad Age in 2001."
At Drake, Klaassen said she learned about the editorial side of journalism, while also getting "a healthy dose of knowledge about the business side," which is something she said is incredibly valuable.
"Today, you have to know the business of journalism — even if you're on the editorial side," she said. "Eyeballs no longer equal a business; these days we're trying out new ways to sell our content and that's a challenge the editorial side as well as the business side cares about."
Klaassen, who previously served as digital editor for Ad Age, joined the publication five years ago after her position as assistant editor at Mpls-St. Paul Magazine in Minneapolis.
At Ad Age, she has developed new products, including the annual Digital Issue and companion Ad Age Digital Conference, the DigitalNext blog and her twice-weekly newsletter.
Advertising Age specializes in news, analysis and data on marketing and media. The magazine was started as a broadsheet newspaper in Chicago in 1930. Today, its editorial component is based in New York City and publishes content through e-mail newsletters, a Web site, weekly print newsletters, podcasts and videos.
When asked why she chose journalism, Klaassen said, "I love journalism because it's a license to constantly learn and stretch your brain."
And a challenge is exactly what Klaassen is up to, according to Ad Age Publisher Allison Arden.
"Abbey's talent and incredible grasp of the digital landscape are the exact skills Ad Age needs during this extraordinary time in marketing and media," Arden said.
Klaassen said she knows the journalism industry has changed during her career and especially since her days at Drake, but knowing the audience is still key.
"Journalism has changed quite a bit in just the last 10 years, given how traditionally closed distribution channels (be they airwaves or printing press) have opened up," she said. "Today you also have to want to be in a dialogue with your audience and find ways of not just creating content but curating it.
"Ad Age is a brand — we provide business intelligence for our readers of marketers, media and agencies — so you've got to understand that and then be comfortable with sending that intelligence through a bunch of different channels."