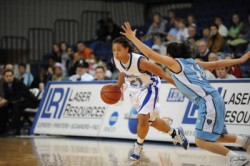 Jordann Plummer
Senior guard Jordann Plummer notched her first career double-double with a career-high 29 points and a career-high 10 assists to lead the women's basketball team (8-4, 1-1) to an 87-73 Missouri Valley Conference (MVC) victory over Indiana State Jan. 2.
The Bulldogs were picked to finish third with 296 points in the 2009-10 MVC preseason poll, conducted by the league's media, coaches and sports information directors.
The 87 points were the most scored by a Drake team in an MVC regulation game during Amy Stephen's seven-year coaching tenure at the school.
Drake opened the game at Terre Haute by making 11 of its first 12 shots and never looked back.
The Bulldogs enjoyed scoring runs of 8-0, 10-0 and 7-0 in the game's opening 10 minutes while improving their record to 8-4, including a 1-1 league mark.
"I'm really proud of the way our team played," said Drake head coach Amy Stephens. "I thought we made some really positive steps."
Drake scored 42 points in the paint, led by 16 from senior forward Monique' Jones (Lee's Summit, Mo.). Jones was one rebound from her 13th-career double-double.
Sophomore center Rachael Hackbarth (Colgate, Wis.) tallied 12 points and pulled down three rebounds.
A jumper by Jones with 10:43 left gave Drake the first of two 21-point leads in the first half at 28-7.
Plummer (St. Louis, Mo.) scored 16 points in the first half, staking the Bulldogs to a 46-26 halftime lead. She also had seven assists and four of her total six steals in the first period.
Drake shot a sizzling 65.4 percent from the floor in the first half, making 17 of 26 shots.
The Bulldogs outscored Indiana State, 10-4, on fast break points and 25-15 on points off turnovers.
"Our transition game was really solid today," Stephens said. "That's the reason we got to 87 [points]."
Drake will host Missouri State in its MVC home opener this Thursday.