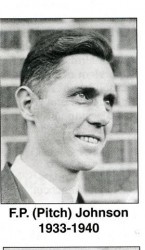 Franklin (Pitch) Johnson
Former Drake Relays director Franklin Pitcher (Pitch) Johnson recently was inducted into the U.S. Track and Field and Cross Country Coaches Hall of Fame.
Flotrack.org broadcast live coverage of the induction of the USTFCCCA's presentation of the Hall of Fame induction from the JW Marriott Grande Lakes Hotel in Orlando, Fla.
The ceremony was held in conjunction with the U.S. Track & Field and Cross Country Coaches Association (USTFCCCA) annual convention.
Johnson served as the fifth Drake Relays director as well as head track and field coach at Drake from 1928-40.
The USTFCCCA Class of 2009 also includes Arthur Gulden (Bucknell University), Oscar Moore, Jr. (Rowan University), Charles (Chuck) Rohe (Furman University/University of Tennessee), Duane Vandenbusche (Western State College of Colorado), and Gary Winckler (Florida State University/University of Illinois).
Johnson's contributions to the sports of track & field and cross country extend far beyond his successful coaching career. He helped establish the fledgling National Collegiate Track Coaches Association (NCTCA), serving as an officer from 1933 until his retirement from coaching, including a three-year stint as president (1935-1938).
As a coach, Johnson put Drake track and field on the map as head track and field coach from 1928 to 1940 and director of the Drake Relays from 1933 to 1940. Under his guidance, the Bulldogs earned 10 team conference championships in track & field (six indoors and four outdoors), won 30 individual Missouri Valley Conference titles, and finished third (1938) and fourth (1939) in the first two years of the NCAA Cross Country Championships.
Johnson ended his coaching career at Stanford University, serving as head track and field coach from 1940 to 1943.
"I am very pleased and gratified that the USTFCCCA has chosen my father, Franklin (Pitch) Johnson for its Hall of Fame," said Franklin Pitcher "Pitch" Johnson, Jr., son of the late "Pitch" Johnson, Sr. "As a former Olympic hurdler, he always loved the sport in which people 'run, jump and throw things,' as he frequently put it."