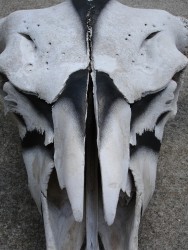 A "Wild Horse" skull sculpture by Scott Robert Hudson.
CONTACT: Tory Olson, 515-271-1834, tory.olson@drake.edu
Drake University's Anderson Gallery will feature an exhibition titled, "To Know the Land," a journey of dynamic visuals of natural sculptures and two-dimensional works of art accompanied with thought-provoking storytelling.
The exhibit will run from Friday, Jan. 29, through Friday, Feb. 26. It aims to shed light on the language-landscape connection once explored by authors such as Walt Whitman and Henry David Thoreau but less embraced by contemporary artists.
An opening reception, including a 6 p.m. walkthrough by artist and sculptor Scott Robert Hudson, will be held from 5-7 p.m. Jan. 29 in the gallery in the Harmon Fine Arts Center, 25th Street and Carpenter Avenue.
By pairing the visual works with narrative, the goal of the exhibit is to bridge the divide among language, landscape and visual tradition. For example, the 20 Bison Skulls display will be paired with text describing the artist's inspiration and intention for the piece.
"Part art and part storytelling, this exhibition is designed to transcend both the literary and the visual and instead occupy a space somewhere in between," said Matt Selsor, exhibit curator and director of the Anderson Gallery.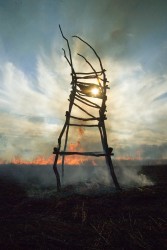 "Prairie Fire" video by Scott Robert Hudson.
In Hudson's story, he recounts his visit to the Badlands in search of
buffalo skulls and the origin and meaning of the sculpture.
"Approximately six miles into our approach, we came across a scattering
of buffalo bones," Hudson wrote. "About 20 feet away I could make out a
horn sticking up in the grass where I discovered a perfect skull. That
same day, I imagined an idea for a sculpture. In my mind, I saw an
actual buffalo skull that had been shaded with gradiations of black
India ink…"
"To Know the Land" will include a selection of Hudson's works
including: installations of bison and horse skulls; a video of a
controlled sculpture burn; wood, metal and mixed-media artifacts; and a
number of watercolor works on paper, pen and ink renderings and oil
paintings.
"The narratives in this exhibition provide both a context in which to
view and understand the work," Selsor said. "They also provide
meaningful insight into the artist's process and methodology, as well
as a basic lexical framework from which to begin a discussion of the
work.
"I hope the exhibit will be a refreshing, enjoyable and
thought-provoking collection of stories and anecdotes that heighten the
viewers' appreciation."


More about the artist
Hudson is an avid traveler and has explored numerous North American
landscapes, including the Mississippi River, the Great Sand Dunes
National Monument of Colorado, Dinosaur National Monument in Utah and
Redwood National Park in California.
Frequently featured in group and individual exhibitions and shows, his
work can be seen at the Minneapolis Institute of Arts and the Chico
Museum of Natural History at California State University. Hudson
received a bachelor's degree from California State University-Chico.