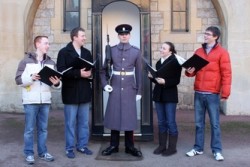 Choir members serenade a guard at Windsor Castle.
The Drake Chamber Choir, the University's select touring choral
ensemble, has traveled across the Atlantic to perform concerts in
England through Jan. 10.
Aimee Beckmann-Collier, director of choral studies, conducts the
choir of 27 students, who are posting pictures and journaling about
their experiences online in between their performances and sightseeing.
Eric Saylor, associate professor of music history, also is
accompanying the students and sharing his historical perspective on the
choir's repertoire and performance venues.
Prior to the choir's departure, the singers received a warm
farewell ovation for their performance at New Year's Day Mass at St.
Ambrose Cathedral in downtown Des Moines. Since arriving in London on
Jan. 2, they have met a similar reception from audiences at:

St. George's Chapel at Windsor Castle
The Chapel of Saint John's College at Cambridge University
Coventry Cathedral in West Midlands
Salisbury Methodist Church
St. Nicholas Paris Church in Witham, Essex
"I learned something new following our performance at St. George's
Chapel: not only do we travel to Europe to share our music with a
different part of the world, but with all parts of the world," said
senior Max Maher, a public relations and politics double major of New
Brighton, Minn.
"England is a cultural Mecca for tourists, and the fact that we
brightened the days of people not only from Europe, but from Asia,
Australia and many other areas, helped make our days brighter in turn."
The ensemble also is scheduled to sing at St. Martin-in-the-Fields
on Trafalgar Square in London and Bath Abbey while on the trip.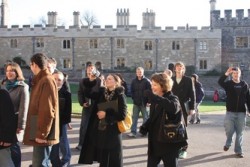 Students take in the sights between performances.
In addition, students have enjoyed touring Cambridge, Salisbury and the Cathedral at Ely. Upcoming sites in the trip include:

The Bank of England and London Stock Exchange
Stonehenge
St. Paul's Cathedral in London
Westminster Abbey
The Tower of London
Since 1992, Drake choral students have toured internationally to
Austria, Germany, Italy and the Czech Republic. The Chamber Choir
previously toured England in 2002 and 2006.
"The specific mission of the international tours is to enhance the
students' understanding of the context of the music they study,"
Beckmann-Collier said.
"Our goal is to enable students to develop performance skills
within the demanding schedule of international touring, deepen their
understanding of themselves and their country by placing them in
unfamiliar circumstances and to extend students' global understanding
as they work, eat, travel and explore another country."
"It's important for the students to understand both the musical and
cultural significance of the places they visit on the tour because it
provides context," added Saylor. "For instance, a cathedral is, by
design, a pretty overwhelming place. To have some ability to make sense
of its layout and purpose can help orient you when you perform."