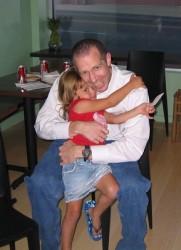 Rusty Bishop and Trinity.
Rusty Bishop, GR'99, recently was awarded the Volunteer Innovation Award from the National Marrow Donor Program (NMDP) at its 22nd Annual Council Meeting in Minneapolis.
Bishop, a donor with the Be The Match registry, was matched with a young girl, Trinity, who was in need of a bone marrow transplant. He donated marrow in 2001, and since then has used his athletic strengths to raise awareness and funds for bone marrow donation.
"I express my deepest thanks to the National Marrow Donor Program and the Iowa Marrow Donor Program; it's an honor to receive this award," said Bishop, who co-owns Gong Fu Tea, a teahouse in the East Village of Des Moines. "I accept this award in honor of Trinity, who will celebrate her 10th birthday this month."
"Rusty Bishop has used his personal strengths as an extreme athlete to raise awareness of the pressing need for more bone marrow donors," said Jeffrey W. Chell, chief executive officer of the NMDP. "As a donor himself, Bishop understands the power and possibility of saving a life through bone marrow donation."
Bishop, who graduated from Drake with a master's degree in business administration, first ran a marathon in 1996. He now runs to raise money for medical research for blood-related diseases and cancers and has completed several endurance races:

Marathon de Sables, a 150-mile footrace across the Sahara Desert in seven days
Badwater 135, 135 miles non-stop through Death Valley
Solo Run Across Iowa, 374 miles in 9.5 days
Gobi March, 150-mile footrace across the Gobi Desert in seven days
Atacama Crossing, 150-mile footrace across Atacama Desert in seven days
Bishop also was one of the carriers of the Olympic Torch on its journey to the 2002 Olympic games in Atlanta, Ga.
In 2008, Bishop was chosen as the grand prize winner in the Inspiring Soles competition, an online contest sponsored by Crocs and Outside Magazine. The contest recognizes individuals who engage in extreme athletic activities to inspire acts of charity. Bishop won $35,000 to benefit the Iowa Marrow Donor Program.
The NMDP operates the Be The Match Registry, the world's largest and most diverse listing of potential bone marrow donors and donated umbilical cord blood. For many patients with life-threatening diseases, such as leukemia and lymphoma, a bone marrow or cord blood transplant from an unrelated donor is their best or only hope for survival.