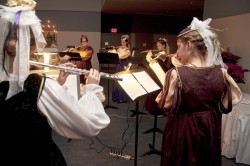 Musicians serenade the crowd during dinner.
Drake University's Christmas Madrigal Dinners, which annually have provided students and community members with the opportunity to celebrate Renaissance music and culture, were held earlier this month. A photo gallery of the 2009 performance, which marks the 20th year of the event, can be viewed online.
Madrigal dinners re-create Elizabethan Yuletide banquets, complete with singing, dancing and feasting.
The dinners featured student performers as strolling minstrels and dancers, and the Drake Chamber Choir performed a concert after the meal. Student's costumes were inspired by the style of dress in 16th century England.
"The madrigal dinners are a valuable experience because we get to perform Renaissance music and learn about the culture that inspired it," said Alexandra Zulauf, a senior voice performance major from Fond du Lac, Wis. "We get to create a really elegant atmosphere, and it's fun to dress up. It's a great way to involve the community in what we do at Drake."
The menu featured a decadent Renaissance feast including wine, Cornish game hen, garlic mashed potatoes, spinach salad, baked apples, scones, wassail and figgy puddings. Vegetarian meals were available as well.
"The 36 students involved made the dinners a great success," said Professor of Conducting Aimee Beckman-Collier, who directs the Chamber Choir. "They were beautifully performed by our students and the audiences seemed thrilled with the event."
The singers, members of the Drake Chamber Choir, began rehearsals in late October.
"The event engages the audience on many levels and provides our students a unique performance opportunity," Beckmann-Collier said.
For more information, contact the Music Department at 515-271-3975.