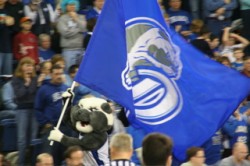 Drake University's mascot Spike took fifth place in the 2010 College Cheerleading and Dance Team National Championship at Disney World last week.
Spike performed a "Tribute to 2009," with references to Michael
Jackson, Farah Fawcett, Patrick Swayze, Billy Mays and Michael Vick, as
well as poking light fun at the other mascots.
To view a video of the performance, go to http://www.varsity.com/event/1320/2010_uca_college_nationals.aspx and click on "Drake University Spike" in the right column.
Drake's Mascot Team qualified for the national competition, which ran Jan. 15-18, through a preliminary video submission. The video clip, which ranked the team 4th of 15 in the open division, gives an overview of Spike's role on Drake's campus and in the community.
Composed of a group of unnamed Drake students, the Mascot Team has worked for three years to organize a mascot program and bring Spike into the community. Throughout this fall, the team has participated in two to four events per week outside of athletics, and has attended more than 30 charitable events.
"This is a pretty big deal for the mascot and cheer programs," said a mascot team member. "Three years ago there was no program and now Spike will be on the national scene at Disney World."
Mascots had 90 seconds to perform a skit, with one minute to set up and one minute to leave the stage. Routines were judged on the use of props, level of crowd involvement and creativity by a panel of experts including a professional mascot and Universal Cheer Association's director of mascot programs.
All competing skits will be included on a DVD to be shown at UCA mascot camps across the country.