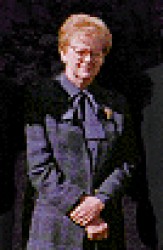 Patsy Sampson
Integrity is just one of many traits past colleagues recalled about
Patsy H. Sampson, former Drake University dean of the College of
Liberal Arts and professor of psychology.
Sampson, who died at age 77 on Nov. 24 in Albuquerque, N.M., joined the Drake faculty in 1980.
"At a time when Drake University was making hard decisions, Patsy
was the one who made those decisions when others backed out," said Jon
Torgerson, professor emeritus of philosophy. "She showed a lot of
integrity."
"Patsy had eclectic interests and was such an adventuresome person," said Sue Wright, deputy provost at Drake.
"One interesting thing was, every summer she spent at least a
couple of weeks doing something she had never done before. One summer I
remember she worked at a rodeo and another summer she took skydiving
lessons."
Sampson also participated in Outward Bound wilderness experiences,
studying the astronomy of ancient Incans in the mountains of Peru and
the behavior of wild orangutans in the tropical rainforest of Borneo.
While at Drake, Sampson was instrumental in advocating the value of
Drake's liberal arts education, as quoted from a 1981 article published
in the Des Moines Register:
"Our students, whatever their major, have the opportunity to
achieve breadth in liberal education and to acquire skills which will
prepare them for the world of work. There is no necessary dichotomy
between the two."
Sampson left Drake in 1983 to serve as the first female president
of Stephens College in Columbia, Mo., where she was known for her sense
of humor and pleasant personality.
"She could be tough as nails," said Alan Havig, archivist for
Stephens. "She could be hard-nosed when she had to be or wanted to be,
and she could be decisive. She also could be more nurturing and
collaborative."
Sampson also enjoyed a distinguished career as both a faculty
member and administrator at the Pitzer College in Claremont, Calif.,
State University of New York, Wellesley College and California State
College.
In addition, she served as a research social psychologist for
McLean Hospital of Harvard Medical School, consultant for the National
Institute of Mental Health and psychologist for the National Institute
of Alcohol Abuse and Alcoholism.
Sampson is survived by two daughters and was preceded in death by one daughter.