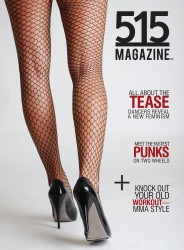 CONTACT: Lori Blachford, 515-271-3050,
lori.blachford@drake.edu
or Elizabeth Jensen, 847-989-9828,
elizabeth.jensen@drake.edu
Drake University magazine students will release the newest edition of 515 magazine this Thursday, Dec. 10.
The lifestyle magazine serves young professionals in the Des Moines area with a wide range of topics from the local music scene to relationship advice to personal finances and fashion trends.
The magazine will debut at a launch party at Gateway Market, 2002 Woodland Ave. in Des Moines at 5:15 p.m. on Thursday, Dec. 10. The magazine staff will be there to meet guests and distribute free copies of the magazine.
Featured articles in this issue include:

"Modern Provocateurs," about a local burlesque troupe that's squashing stereotypes and embracing a new feminism.
"Love Is Money," a report on the cash flowing into Iowa since the legalization of same-sex marriage.
"Rock 'n' Ride," about the Punk Rock Cycling team, a group of women putting a fresh spin on Des Moines' growing bike culture.
The magazine was written, edited and designed by the Drake students as their senior magazine capstone project over the course of the fall semester.



"We're excited to share our hard work with Des Moines," said Max Plenke, 515 editor-in-chief.
Additional content is available on the magazine's Web site at www.515magazine.com. Readers will find all-new feature articles, videos of local events, a behind-the-scenes blog and more.
Lori Blachford, the Fisher/Stelter chair of magazine journalism at Drake, said producing the magazine and the Web site gives the students more than just valuable journalism experience.
"They come away with a whole new respect for Des Moines, as well as for the young leaders who are energizing the city," Blachford said.
After the launch party, magazines will be available for free at various coffee shops, bookstores, restaurants and other locations throughout the city. A copy can be requested by contacting the Drake University School of Journalism and Mass Communication at 515-271-3194.