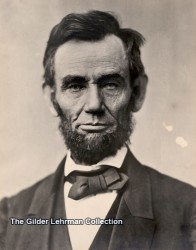 A national traveling exhibition featuring notable written and spoken words of President Abraham Lincoln, supplemented by letters, photographs and images from Civil War soldiers, will be on display at Drake University from Tuesday, Jan. 12, through Feb. 8.
The exhibit, "Abraham Lincoln: A Man for His Time, A Man for All Times," and related programs, which are free and open to the public, will be held in the Cowles Library Reading Room, 2725 University Ave.
This exhibit is part of Drake's "Citizens Arise!" series, a multi-year initiative that aims to inspire students, teachers and citizens to responsible citizenship. Its goal is to encourage all to learn about the history, development and uses of the democratic process as an instrument for managing the challenges of the 21st century.
Including Lincoln's speeches, letters and proclamations, the traveling exhibit encourages visitors to look beyond myths to achieve a deeper understanding of the president's life, accomplishments and legacy.
Lincoln's presidency, marked by his eloquence, democratic ideals and intellectual and moral growth, successfully led the United States through crises of secession and the Civil War.
Additional events, which will be held in the Cowles Library Reading Room unless otherwise noted, will take place in conjunction with the display: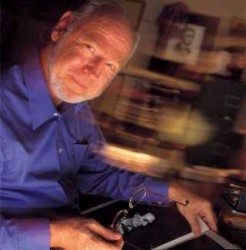 Ronald Rietveld
Thursday, Jan. 21, at 7 p.m.: Ronald Rietveld

, professor emeritus of
history at California State University at Fullerton, will present "An
Abraham Lincoln Memory." A Lincoln student since the age of 14,
Rietveld discovered the last photograph of Lincoln in 1952 in the
Nicolay papers of the Illinois State Historical Library. He serves as a
member of the Historical Advisory and Content Team for the Abraham
Lincoln Presidential Library and Museum in Springfield, Ill., and as
adviser to the Abraham Lincoln Bicentennial Commission.
Thursday, Jan. 21, "History on the Move" traveling exhibit, the State
Historical Society of Iowa will bring its "History on the Move" exhibit
to Drake. The display, which is housed in a mobile trailer, will be in
the parking lot of Olmsted Center, 2875 University Ave. "History on the
Move," produced in cooperation with the Iowa Abraham Lincoln
Bicentennial Commission and with support from the Union Pacific
Railroad Foundation, highlights Lincoln's associations with Iowa before
and during the Civil War.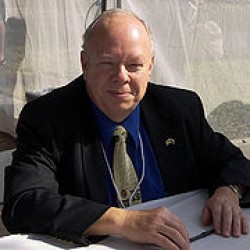 Orville Vernon Burton
Thursday, Feb. 4, at 7 p.m.: Orville Vernon Burton

, the Burroughs
distinguished professor of southern history and culture at Coastal
Carolina University, will discuss "The Age of Lincoln." The author or
editor of eight books, including "In my Father's House There Are Many
Mansions: Family and Community in Edgefield, South Carolina," Burton
focuses his research on aspects of the American South, including race
relations, family, community, politics and religion.
The exhibit has been organized by the Gilder Lehrman Institute of
American History in New York City, made possible by a major grant from
the National Endowment for the Humanities: great ideas brought to life.
The exhibit will be open during regular library hours from:

Monday through Thursday: 7:30 a.m. to 1 a.m.
Fridays: 7:30 a.m. to 9 p.m.
Saturdays: 9 a.m. to 7 p.m.
Sundays: 11:45 a.m. to 1 a.m.
For more information about "Citizens Arise!" and to view a complete
list of events, visit citizensarise.drake.edu or contact Claudia Frazer
at 515-271-3776 or claudia.frazer@drake.edu.