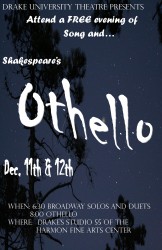 Students in Drake University's musical theater and acting classes will be performing at 6:30 p.m. and 8 p.m. on
Friday, Dec. 11,
and Saturday, Dec. 12.
The
performances, which are part of the students' finals, are free and open
to the public and will take place in Studio 55 in Harmon Fine Arts
Center, 25th Street and Carpenter Avenue.
The Musical Theatre I
class, which is comprised of first-year students, will present a
cabaret performance of Broadway solos, duets and a group number.
The Acting IV class, made up of juniors and seniors, will perform an excerpt of Shakespeare's "Othello."
For more information, send an e-mail to karla.kash@drake.edu.