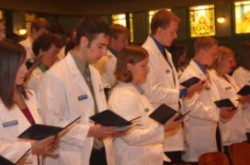 Opportunities for professional development will now be more
accessible for students in Drake's Doctor of Pharmacy program, thanks
to a new travel fund established as part of the college's White Coat
sponsorship program.
Now in its third year, the White Coat sponsorship program pairs
alumni and students in the first year of the professional pharmacy
program. Alumni serve as mentors for the students, who also receive a
white coat and nametag as part of the sponsorship program.
Many White Coat supporters also asked to contribute an additional
$50 or $100 to the Student Professional Travel Fund, which will help
support students attending research seminars, professional meetings and
other national scholarship events. The fund also meets the goal of the
White Coat program, emphasizing the importance of professionalism and
involvement in the pharmacy community.
The College of Pharmacy and Health Sciences hopes to build the
Student Professional Travel Fund to $10,000 per year, which will enable
many students to attend events that foster professional development.
"Our goal for the program is for students to eventually present
collaborative research and findings with other students and faculty
members at national meetings," said Dean Raylene Rospond.
In addition to the new program, students will now have the
opportunity to work with and learn from the following new faculty
members who recently joined the college:
Michael Andreski, assistant professor of social and administrative pharmacy
Cheryl Clarke, assistant professor of pharmacy practice
Kimberly Huey, associate professor of health sciences
Andrea Kjos, assistant professor of social and administrative pharmacy
Ginelle Schmidt, assistant professor of pharmacy practice
The College of Pharmacy and Health Sciences also announced the
appointments of John. P. Rovers as the John R. Ellis distinguished
chair of pharmacy practice and June Felice Johnson as the chair of the
Department of Clinical Sciences.
Rovers, who joined Drake in 1991, is a professor of pharmacy
practice in the Department of Pharmaceutical, Biomedical and
Administrative Sciences. He is a founding member of the Iowa Center for
Pharmaceutical Care. Rovers also helped establish the college's study
abroad program and has developed teaching sites for Drake students in
Australia, New Zealand, France and South Africa.
Johnson is associate professor of pharmacy practice. She joined
Drake in 1995. She is a research coordinator at the Iowa Diabetes and
Endocrinology Research Center, where she participates in sponsored and
investigator-initiated clinical trials in diabetes. She also supervises
an experiential program for students with a diabetes concentration. One
experience focuses on the diabetes camp for youth in Iowa, Camp Hertko
Hollow, where she is a medical staff volunteer. She also serves on the
Board of Directors for the camp.