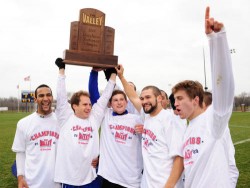 Drake's senior class hoists the program's first MVC Tournament trophy after the Bulldogs's 2-1 victory over Evansville on Sunday.
The Drake men's soccer team will play Western Illinois at home in the first game of the NCAA Tournament at 7 p.m. today (Thursday, Nov. 19) at the Cownie Soccer Complex, 2600 E. Hartford Ave.
Drake earned its second consecutive trip to the NCAA Tournament after beating Evansville, 2-1, Sunday to win the State Farm Missouri Valley Conference Tournament for the first time.
Drake will be making its second consecutive and second overall tournament appearance when it squares off against the Leathernecks. The Bulldogs enter the tilt ranked No. 24 in the final regular season Soccer America poll released on Monday (Nov. 16).
"Last year we were so excited about making it into the tournament we would have gone anywhere to play anyone," Drake head coach Sean Holmes commented. "This year we're more experienced and we're excited about the opportunity to host a game."
Drake is meeting Western Illinois for the 20th time in school history with the Bulldogs owning a 12-7 series advantage. Earlier this season, on the strength of a penalty kick from senior Kevin Shrout (Lee's Summit, Mo./Lee's Summit), Drake netted a 1-0 victory over the Leathernecks on Oct. 7 in Macomb, Ill.
"I think it is nice in a way to play a team we've seen before, but I feel very confident playing any team at home," said Holmes. "I have to credit our seniors as they have a sense of what their potential is and we've had some great momentum and terrific results of late with our goalkeeper Michael Drozd playing well and Garrett (Webb) scoring goals. We're playing at a great facility at the Cownie Soccer Complex and we expect a good crowd and are very optimistic about our chances."
Drake and Western Illinois shared three common opponents this season in Evansville, UMKC and Northwestern.
The Leathernecks dropped 4-2, 1-0 (2OT) and 3-2 decisions, respectively, to the Purple Aces, Kangaroos and Wildcats. The Bulldogs took two of three meetings from Evansville, including Drake's 2-1 triumph in the championship match of the State Farm Missouri Valley Conference Championship on Sunday, Nov. 15, dropped a 3-0 decision at UMKC (Sept. 20) and tied Northwestern, 2-2, on Sept. 25.
The winner of today's game advances into the second round for a showdown at fourth-seeded Ohio State (12-4-4) on Sunday, Nov. 22. Game time in Columbus, Ohio, is slated for the 11 a.m. CST.
For ticket information, fans are asked to contact the Drake ticket office at 515-271-DOGS (3647).