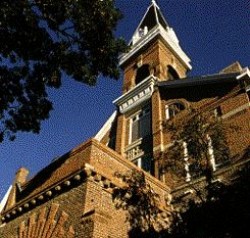 Drake University officials have informed national leaders of Phi Delta Theta fraternity that the Drake chapter is being removed from the University's list of recognized student organizations, effective immediately and continuing for four years. The action follows the University's investigation that found the Drake chapter responsible for hazing and underage drinking.
The national Phi Delta Theta fraternity, which worked closely with Drake on the investigation, has suspended the charter of the Drake chapter as a result of violations of the fraternity's risk management policies including alcohol and hazing.
Drake Dean of Students R. Sentwali Bakari said he was removing the Drake chapter at the conclusion of the University's investigation that included meetings with students, fraternity officials and alumni advisers as well as information obtained from police reports and Des Moines police officers.
"We commend the national fraternity for its cooperation and swift action," Bakari said. "The action the University is taking reflects the Drake community's values and commitment to students. We are deeply concerned about the safety and well being of our students."
Removal is a severe punitive action in which the dean of students informs the chapter that it is no longer welcome on the Drake campus. A chapter that has been classified as "removed" loses its recognition as a Drake University organization and all of the rights and privileges accorded to recognized groups.
According to Drake's Student Handbook, a fraternity or sorority chapter that is on removal basis:

Must immediately cease to use the national Greek letters in connection with the name "Drake University" or "Drake"
May be forced to vacate its chapter house
Is ineligible to compete in all-Greek events
Is ineligible to re-colonize for four years
May not sponsor parties or social events
The General Council of the Phi Delta Theta Fraternity voted to suspend the charter of the Iowa Alpha Chapter at Drake University on Nov. 13, according to a Nov. 15 letter from Jacob Kingdon, director of chapter services, to the president of the Drake chapter.
The charter suspension includes the loss of any rights to use the fraternity name in association with any event or activity and the loss of any rights to display the name or symbols of the Phi Delta Theta Fraternity. This suspension also restricts any continued operation, or any resemblance to operations, such as the initiation of any new members.
In addition, all students currently living in the chapter facility will be asked to move out of the house no later than Nov. 30. The university has offered to secure housing on campus for any students who need it. In the meantime, the chapter facility is to remain alcohol-free and any damages to the facility may result in individual discipline or fines.
"The General Council regrets the need to take this most serious form of action," Kingdon concluded in his letter. "However, it is felt the best way to ensure a bright future on the Drake University campus is to suspend the charter until a time when Phi Delta Theta can return to campus."