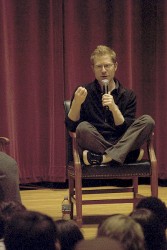 Anthony Rapp
Anthony Rapp took a step away from the spotlight, starring in the Broadway tour of "Rent," to offer advice for aspiring actors during a visit to Drake University on Nov. 12.
In the style of "In the Actors Studio," the discussion was moderated by Deena Conley, Drake associate professor of theatre arts, and Jeff Chelesvig, president and CEO of the Civic Center of Greater Des Moines.
Rapp is best known for creating the role of Mark Cohen in both Broadway and off-Broadway casts of "Rent," which he also reprised in the 2005 film adaptation. He also has held roles in films including "Dazed and Confused" and "A Beautiful Mind."
"It was incredible. I was sitting front row center looking him dead in the eyes," said Jonas Davidow, a senior musical theatre major. "It was really enriching to get the perspective of a professional."
Rapp covered topics including his process in acting, his tours with "Rent," and how he has worked to keep his character alive after many performances, including on film. In addition, he offered advice for actors about being successful in the business.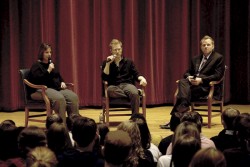 L to R: Deena Conley, Anthony Rapp and Jeff Chelesvig
"One of the things that left an indelible impression was that you can't
take anything for granted, even if you're successful in a production
like 'Rent,'" said Conley. "You're always looking for your next job and
working for that next artistic moment."
"He talked about truth in acting, which was great to hear because
we're taught at the university to be natural and that truth is beauty,"
added Davidow, of Kansas City, Kan.
Rapp also signed copies of his book, "Without You: A Memoir of
Love, Loss and the Musical Rent," which was available for purchase at
the event.
"In the Actors Studio" is a partnership between Drake's Department
of Theater Arts and the Civic Center of Greater Des Moines. Now in its
third year, the program has previously featured Lou Diamond Phillips,
Cherry Jones and Richard Thomas, among others.
'Rent' is now playing in Des Moines at the Civic Center through
Sunday, Nov. 15. For more information about the show or to buy tickets,
visit http://www.civiccenter.org.