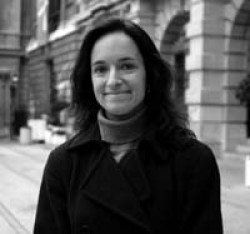 Joanne Diaz
Poet Joanne Diaz and three Drake University students will share selections of their poetry on Friday, Nov. 6, at the Drake Writer's Harvest Festival, a benefit for the Food Bank of Iowa.
The event, which is free and open to the public, will begin at 7 p.m. in the Cowles Library Reading Room, 2725 University.
Attendees are encouraged to bring donations in the form of cash or check for the Food Bank of Iowa, which is a private, non-profit charitable organization whose mission is to alleviate hunger and reduce food waste. The Food Bank of Iowa solicits and distributes grocery products through a network of 285 non-profit food-providing organizations in 42 Iowa counties.
In addition, Drake's chapter of Sigma Tau Delta, the International English Honor Society, will host a silent auction at the event. All proceeds from the auction will also benefit the Food Bank of Iowa.
Award-winning speaker, students to share poetry
Diaz is a poet and assistant professor of English at Illinois Wesleyan University in Bloomington, Ill. She is an assistant editor for TriQuarterly magazine and her poems have been published in various literary journals, including AGNI, The American Poetry Review, The Southern Review, The Missouri Review and Quarterly West.
She also received a Keck Fellowship for her research at the Huntington Library and an Illinois Arts Council fellowship for her poetry.
Diaz has served as a juror for Drake's Periphery Awards from Periphery magazine, which features student literature and art. Two outside jurors are chosen to review the submitted work and choose first, second and third prize winners in writing and art.
She will be joined by:
Brandon Courtney, a senior writing major from Adel, Iowa
Brigitte Haugen, a junior magazine and writing major from Olivia, Minn.
Julie Van Dike, a 2007 graduate who majored in writing, who recently returned from living in China
Both Courtney and Haugen received the most recent Periphery Awards for literature.
Courtney won the first prize for his poem "Trazodone and Lodestone" and Haugen will read "Stucco, Thin Plastic, Staple of the Unwealthy," her second prize-winning submission.
Van Dike will share selections from her work, which also received a Periphery Award when she was a Drake student.
More about the Writers and Critics Series
The Writers and Critics Series, which is sponsored by Drake's English Department and its Center for the Humanities, will continue throughout the academic year.
The next presentation will feature Drake writers and will take place at 7 p.m. Thursday, Dec. 3, in the Honors Lounge of Medbury Hall, 2730 Forest Avenue.
For a complete list of upcoming events in the series, visit the
Web site
.