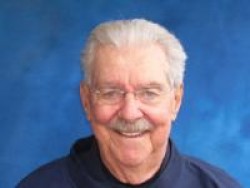 Lloyd Stjernberg
Lloyd Stjernberg, professor emeritus of teaching and learning at Drake, was renowned for his dedication to education and the Drake Relays during his 29-year career at the University.
Stjernberg, 72, died of a heart ailment on Thursday, Oct. 22, at Mercy Medical Center in Des Moines.
Services were held at 11 a.m. Tuesday, Oct. 27, at Caldwell Raddatz Funeral Home, 8201 Hickman Road in Clive, with visitation at 10 a.m.
The service was followed by a luncheon at Hyperion Field Club in Johnston, where Stjernberg was a longtime member and served two terms as president.
"Professor Lloyd Stjernberg was a legendary Drake gentleman and scholar," said
School of Education Dean Janet McMahill.
"Faculty and staff relied upon Lloyd Stjernberg to keep a connection between the way things were and the way things are," added Robert Stensrud, professor of education. "He had a unique perspective and respect for the conventions and traditions of higher education."
Stjernberg also had a deep connection with the Drake Relays, serving as chief timer for many years. He
was inducted into the Relays Hall of Fame in 2008.
He began his teaching career in 1961 as a graduate assistant while at Kansas State. He then served for nine years in East Maine Public Schools in Niles, Ill., in teaching and administration prior to joining Drake in 1972.
In Drake's department of teaching and learning, he taught courses in social science methods, human relations and foundations of education. He also supervised students as they completed their field experiences and advised Drake's chapter of Kappa Delta Pi, a professional education fraternity.
In addition, Stjernberg was active in several committees at department, college and university levels. He was honored with the Vector Marketing Outstanding Faculty Award, the Educator of the Year award by the Kappa Delta Pi Epsilon Chapter, and as Drake University Undergraduate Professor of the Year in 1984.
Throughout his career, Stjernberg conducted more than 70 programs in Iowa school districts, ranging from half-day workshops to year-long curriculum projects. He also delivered more than 80 speeches to business associations, charitable organizations, professional clubs and church groups.
After his retirement in 2001, he and his wife, Cathy, found their way to golf courses in Iowa, Florida and everything in between.
Stjernberg held a doctoral degree in elementary education from Northwestern University, a master's degree in geography and geology from Kansas State University and a bachelor's degree in secondary education from Northern Illinois University.
In addition to his wife, Cathy, survivors include his children, Ruth Ott, Erik Stjernberg and John
Stjernberg; five grandchildren; and a
sister, Lois Hartung.
The family suggests memorial contributions be directed to the Golf Foundation of Iowa/Herman Sani Scholarship
Fund or the Animal Rescue League of Iowa.