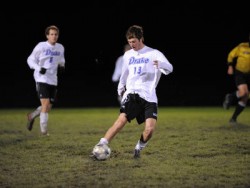 Sophomore Thomas Ostrander.
The 19th-rated Drake men's soccer team defeated Creighton yesterday (Oct. 14) in Omaha, Neb. The win marked only the second triumph for Drake over Creighton, the preseason Missouri Valley Conference favorite, in 27 meetings, and the first victory in Omaha in 15 games.

Sophomore Thomas Ostrander's (Fort Dodge, Iowa/St. Edmond Catholic) goal in the 48th minute (47:05) provided the team all the scoring it needed as the Bulldogs notched a 1-0 victory to earn the program's first-ever road victory against the Bluejays.
The Bulldogs improved to 8-3-1 overall and 3-0 in the MVC with the decision, while the Bluejays dropped to 5-3-2 on the season, including 3-2-2 in league play.
"It was thrilling to go to a national powerhouse like Creighton and get a shutout win and remain undefeated in our conference season," Drake head coach Sean Holmes commented.
"The game came in waves as we played well and then they played well, but we were able to finish a good chance in the second half and that unsettled them."
The team has been rewarded for its challenging schedule as the initial NCAA RPI rankings released this week has the Bulldogs checking in at No. 20.
The highest rated team in the Missouri Valley Conference, the Bulldogs own a victory or a tie against a pair of squads ranked within the top 20, including a 2-2 double-overtime tie against top-rated Northwestern, a contest which Drake played the final 31 minutes of regulation and overtime a player down.
The Bulldogs will face Missouri State at home at 7 p.m. on Saturday, Oct. 17, at the Cownie Soccer Complex.