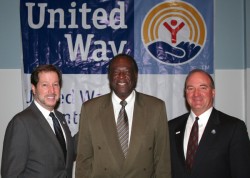 Drake President David Maxwell, Dolph Pulliam and Jim Noyce gather for a photo at the breakfast.
This year marks the first time Drake University will compete with area universities — Des Moines University and Grand View University — in its annual United Way campaign.
"I think this new initiative is exciting," said Dolph Pulliam, director of community outreach at Drake. "It will be interesting to see which school will raise the most funds for United Way."
In addition to the competition, staff members have the opportunity to secure matching funds from various anonymous community philanthropists. First-time contributors and donors who increase their giving amounts will qualify for gift matches.
"Hopefully this new program will encourage staff members who have not given in the past to participate, and for past donors to increase their gifts," Pulliam said.
Staff members gathered this week for a kickoff breakfast with guest speaker Suku Radia, a Drake Board of Trustees member and chair of the Central Iowa United Way campaign this year.
"United Way becomes really meaningful when you look at the needs of our community," Radia said.
Drake President David Maxwell and Jim Noyce, major gift officer for athletics, also spoke to staff members about the importance of Drake's role in supporting the community.
"Individual participation is important and I encourage you to give generously to help United Way support our community," said Noyce, who served as chair of United Way's campaign last year. "I'd love to see Drake University beat Grand View and DMU, and let it be known."