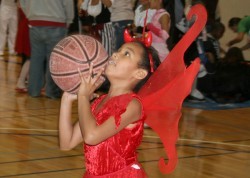 The free event combines costumes and shooting contests.
Des Moines area children will come out to celebrate Beggar's Night and basketball at the 16th annual Drake University Community Halloween Hoops Shoot Out at 6 p.m. on Thursday, Oct. 29.
The event, which is free and open to children ages 3-12, will be at Drake's Bell Center, 1421 27th St. Contestants are encouraged to wear costumes and bring their own basketball, mini-basketball or Nerf-style ball.
Contests will include Free Throws, Lay Ups, Over the Backboard Shot and plain old Halloween fun. There also will be face painting, games, piñatas and awards, along with pizza, soda pop and candy.
Drake Law School Associate Dean Russ Lovell and Drake basketball legend Dolph Pulliam, director of community outreach and development, will host the shootout. The event is co-sponsored by the Drake Law School Student Bar Association and the Des Moines branch of the NAACP.
In addition, members of Delta Theta Phi, Drake's professional law fraternity, and Equal Justice Works, a national law organization, will serve as volunteers at the event.