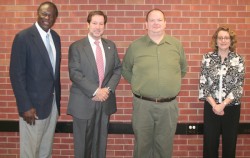 Dolph Pulliam, David Maxwell, Denise Stowman and Dennis Steele at the Iowa Shares kick off.
This week, Drake University launched its annual campaign for
Iowa Shares
, a member organization with 19 nonprofit groups.
These groups support children and families, work for a just society, enrich communities through the arts, provide housing and shelter, raise environmental awareness and promote animal welfare.
"Involvement in and support of our community is part of the definition of who we are at Drake," said Drake President David Maxwell. "We're being called on to help our neighbors in the community."
Faculty and staff members gathered for a kickoff breakfast Wednesday with President Maxwell and guest speakers:
Denise Stowman, Drake Iowa Shares campaign coordinator
Dennis Steele, co-president of Iowa Shares and Amnesty International representative to Iowa Shares
"I believe in the core of what Iowa Shares represents and I feel good to be part of its collective mission," said Stowman, assistant director of student financial planning at Drake.
Stowman discussed her involvement with one of Iowa Shares' organizations, Animal Protection Society of Iowa. link: www.animalprotectionsocietyofiowa.org
The group works with low-income pet owners to get dogs and cats spayed and neutered to reduce the number of unwanted animals euthanized each year.
Steele, who works with Amnesty International of Iowa to raise awareness of human rights issues, expressed appreciation for Drake's past support of Iowa Shares.
"Thanks to you and your colleagues for your support and generosity over the years," he said.
The Amnesty group has brought several well-known speakers to Des Moines to talk about human rights issues, thanks to donations to Iowa Shares.
Steele also mentioned Bidwell Riverside Center, an Iowa Shares group providing early childhood programs, an emergency food pantry, clothing, a community garden and more for low-income families.
He said the center's food pantry is struggling to keep pace with increased demand from families that have lost jobs due to the recession. He noted that last month 799 families used the food pantry, which relies on funds it receives from Iowa Shares to supplement other sources of food.
"In this unpredictable environment," Maxwell concluded, "we've all seen scary things, but people in our community face much scarier things — and we can help them."