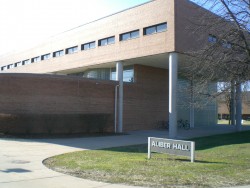 Program participants will meet in Drake's Aliber Hall for sessions from Sept. 18- Oct. 30.
Registration is under way for a new Certificate in Business Management program at Drake University, which offers managers an opportunity to update and upgrade their education in six weeks.
Participants will meet Friday afternoons on the Drake campus from Sept. 18 – Oct. 30. Faculty who teach in Drake's MBA program will teach all sessions.
The program, developed by Drake's Center for Professional Studies, will cover a wide array of topics, including:
Becoming an Effective Leader
Business in the World Economy
Strategic Decision Making in a Business Environment
Finance and Accounting for Strategic Decision Making
Planning for the Future in Today's Economy