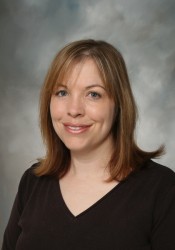 Darcie Vandegrift
Darcie Vandegrift has dreamed of visiting Venezuela again since her first trip there at 17 as an exchange student in Maracaibo, the country's second largest city.
When Vandegrift was selected for the Fulbright Scholar program, she and her family got the opportunity to spend the 2008-09 academic year in Venezuela at the University of the Andes.
"Since my experience as an exchange student, I've always wanted to go back, and this past year was an interesting time to be in Venezuela," said Vandegrift, who taught and conducted research as part of her Fulbright program.
Vandegrift said she saw many changes there as Hugo Chavez's government now defines the country.
Chavez, who was first elected president in 1998 and gained a third term in 2006, has pursued populist policies aimed at helping the poor and concentrating the power of the president's office.
He has also sought to reduce the influence of the United States in South and Central America. Government-to-government relations between the United States and Venezuela have been strained since Chavez came to power.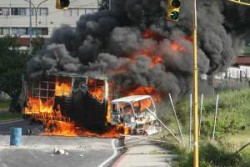 Vandegrift witnessed student protests, including car burning demonstrations.
A second look at Venezuela
Vandegrift co-taught classes and graduate seminars at the University of the Andes in Merida, the center of education and tourism in western Venezuela. She also helped professors at the university publish research in the United States.
In addition, she conducted a research project with adults between 18 and 30. In confidential interviews, Vandegrift asked their opinions on the present and how these young people viewed their future under the Chavez government.
The interviews crossed social classes, including a maid with a sixth grade education and a successful business owner with houses in multiple countries.
What Vandegrift found is that Chavez is as much of a divisive figure inside Venezuela as he is outside. Each of the young people Vandegrift interviewed and everyone else in the country is either pro- or anti-Chavez.
"Everything in the country is politicized, including faculty and students at the University of the Andes," Vandegrift said. "Because I was an outsider, I was able to get access to those who are for and against Chavez."
Vandegrift also discovered that student protests are a part of university life in Venezuela. During one demonstration at the University of the Andes, police shot and killed a pro-Chavez student. A handful of times, students blocked streets around the university by burning tires or trucks for various reasons, including a small group of students who wanted finals canceled. Students seized some of these vehicles, which is why Vandegrift changed her route to and from campus daily.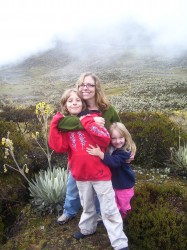 Vandegrift's children, Anson and Risa, also spent the year in Venezuela.
Family grows closer while abroad
Not all of her time in Venezuela was marked by violence. While her
interviews and time teaching at the university gave Vandegrift insight
into Venezuelan culture, she says having her husband and two children
with her provided additional authentic access to the society.
The children attended a Spanish-speaking school and participated in
sports programs, providing interaction with Venezuelan families.
"You learn about a society just by doing things like getting your kids
to a sports competition and spending that time with other families,"
Vandegrift said.
She says one of the best parts of the experience was how her own family grew closer.
"We got to eat lunch with the kids every day, because everyone goes on
break from noon to 2 p.m.," she said. "We spent more time together as a
family during the year, and got to know each other better."
Sharing the experience back home
Scholars are allowed two Fulbright grants, and Vandegrift hopes to win another one to achieve her goal of living in a foreign country at least once every 10 years.
"It's hard to legitimately write and teach about people in other countries if you don't live with them every once in a while," Vandegrift said.
Just because she's back home doesn't mean her Fulbright experience has ended. Vandegrift is writing two books based on the research she conducted in Venezuela.
The first book is about a global youth generation, and will compare the outlook of Venezuelans with the outlook of young people in China and Russia. Vandegrift is also working on a book on the sociological impact of the Chavez era.
Vandegrift will give a free, public lecture on her experiences in Venezuela on Tuesday, Oct. 6. She will speak at 1 p.m. at the Greater Des Moines Partnership office, 700 Locust St.
Fulbright program brings Chinese scholar to Drake
The Fulbright program also provides grants for scholars from other countries to come and teach in the United States.
This school year, a scholar from China is living with Vandegrift's family and teaching at Drake.
In addition to living at Vandegrift's house, Peiqin Zhou, associate professor of sociology and assistant to the department chair of sociology at Nanjing University, is co-teaching a course with Vandegrift this fall. The class focuses on the representation of women in American, Venezuelan and Chinese media and politics.