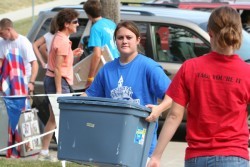 A Drake volunteer helps move first-year students into the renovated dorms.
More than 860 first-year students will move into residence halls at Drake University starting at 8 a.m. on Wednesday, Aug. 19. The Drake area, including 30th/31st Street and Forest Avenue, will be busy with students and their families unloading packed vehicles.
Helping the students with the heavy lifting will be more than 100 Drake volunteers, including football players as well as staff members from the Admission Office and Residence Life.
Later that evening at 7 p.m., Welcome Weekend activities for new students will kick off to help students make a smooth transition to Drake. Activities, which include residence hall and college meetings, as well as recreation and entertainment, will run Wednesday through Saturday, Aug. 22. Classes will begin Monday, Aug. 24.
During the weekend, students also will take part in community service projects throughout the Drake Neighborhood on Friday afternoon and Saturday morning. Projects will include landscape work and renovations at the Bennie Lorenz Recovery House on Kingman Boulevard, as well as spending time with residents at Brookedale Ramsey Village on 27th Street.
Students also will work to clean up several Drake neighborhood areas, including:
23rd to 34th Streets and Cottage Grove Avenue to Clark Street
Drake Park, 24th Street and Drake Park Avenue
Witmer Park, 34th Street and Witmer Park
The Michael Garden, 25th Street and Cottage Grove
Kingman Boulevard Island, from 28th to 31st Streets
For more information about Welcome Weekend, visit the
Web site.