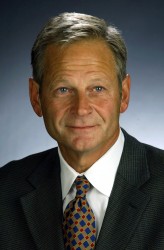 Richard Hartig
During Congress' August recess, lawmakers have been meeting with constituents and industry leaders, including Drake graduates, on proposed health care reform legislation.
Hartig, a third generation owner and CEO of Hartig Drug Co., based in Dubuque, Iowa, co-hosted the visit along with Steven Anderson, president and CEO of the National Association of Chain Drug Stores (NACDS). NACDS organized the visit to highlight the role of pharmacies in neighborhood health care.
Rep. Loebsack toured the pharmacy, visited with pharmacists and patients and discussed health care reform legislation.
Hartig, who also serves on Drake's Board of Trustees, earned his bachelor's degree in pharmacy from Drake in 1973 and his MBA from Drake in 1981. He has long been recognized as a entrepreneurial leader in pharmaceutical care, emphasizing active patient care by pharmacists.
He received the Lawrence C. and Delores M. Weaver Medal of Honor from Drake's College of Pharmacy and Health Sciences in 2006 and Drake's Distinguished Service Award.
In 2002, Hartig and his wife, Brenda, endowed the Hartig Pharmacy Fund with a gift of $500,000. The fund supports a distinguished professor award, faculty development and student scholarships.