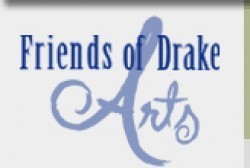 CONTACT: Lisa Lacher, 515-271-3119, lisa.lacher@drake.edu
Drake University fine arts faculty members and guest artists will
showcase their musical and theatrical talents in "A Night of Stars"
on Friday, Aug. 28.
The performance, sponsored by Friends of Drake Arts, will
start at 7:30 p.m. on the Jordan Stage in Sheslow Auditorium, Old Main, 2507
University Ave.
Participating faculty members and guests include:
Christine Blanner,

soprano

Edward Corpus,

bass-baritone

Leanne Freeman-Miller,

soprano

Cynthia Giunta,

piano

Leslie Marrs,

flute

Clarence Padilla,

clarinet

James Romain,

saxophone

Nicholas Roth,

piano


Andrew Ryker,

baritone

Tickets, which are $10, will be available at the door. The
performance will be followed by a reception in Levitt Hall in Old Main.
Friends of Drake Arts is a member organization that
celebrates and supports the visual and performing arts at the University.
In addition to providing opportunities for young aspiring
artists, the group sponsors an interactive open house, pre-theater dinners and
audience talks, receptions at the Anderson Gallery, special performances and
other events. Memberships start at $35 a year. For more information, call
515-271-3939.