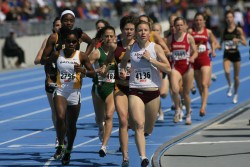 Runners compete in the 100th Drake Relays held last April.
LOS ANGELES, CALIF. – SportsTravel magazine recently announced that the 2009 Drake Relays has been nominated for a 2009 SportsTravel Award.

"Events such as the Drake Relays are a prime example of the achievement of excellence in the organization and management of sporting events," said Timothy Schneider, publisher of SportsTravel magazine.
Events are nominated and then voted on by readers of SportsTravel, the sports world's event magazine. Criteria for nomination and voting include:
Superior organization of and attendance at the event

Superior experience for the competitors and/or spectators at the event

The site venue and how it enhanced the event
Official ballots are available in the August and September issues of SportsTravel magazine. Readers may also find more information and vote online at
http://www.SportsTravelMagazine.com
.
"SportsTravel readers are the leaders of the sports-event industry and they know what it takes to execute a high-quality event. The SportsTravel Awards program is an opportunity for them to honor their peers for a job well done," Schneider added.
The Drake Relays was nominated for the Best Multi-Sport or Multi-Discipline Event under the Collegiate Sporting Events category.
The ballot includes nominees in amateur, collegiate and professional categories. Awards in those three categories will be given for best single-sport event, best multi-sport or multi-discipline event and best sports event series or circuit. Voters will also pick the best new sports event and an overall Sports Event of the Year from among the nominated events.
Final balloting is open through Sept. 14. Winners will be announced at the TEAMS 2009 Conference and Expo from Oct. 13-17 in New Orleans. The event is organized by SportsTravel magazine.