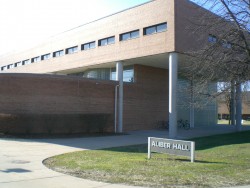 Aliber Hall houses the MBA program.
CONTACT: Tory Olson, 515-710-4446, tory.olson@drake.edu
Readers of the Des Moines Business Record have recognized Drake University as having the Best MBA Program for the third consecutive year.
"We are pleased that the business community continues to recognize Drake's efforts to provide students with an outstanding MBA program," said Charles Edwards, dean of Drake's College of Business and Public Administration. "Drake is committed to maintaining the excellence we've achieved by improving our curriculum through feedback we receive from students."
That feedback, for example, led the college to offer all its graduate students the opportunity to attend Leadership Essentials, a new, interactive workshop conducted by Dardis Communications Inc. The workshop, which is covered by tuition, helps students develop the communication skills they need to lead, influence and inform others.
In addition, Drake's MBA degree program uses an integrative approach that emphasizes real-world application of knowledge and problem-solving strategies and techniques. Technology and management are incorporated into and across courses, which are taught by experienced faculty and successful business leaders. Plus, the program is flexible and tailored to suit students' goals.
Julie Hagg, a student in the MBA program from West Des Moines, said she gathered advice from others when selecting a school. "My friends and colleagues enjoyed their experience at Drake because of the close interaction between instructors and students," Hagg added. "The program challenged me more than I expected, which is why I've found it so rewarding."
David Sartin, another graduate student from West Des Moines, had difficulty finding a MBA program he could complete while working, until he discovered Drake's flexible schedule. "The professors understand the demands placed on students who also have careers," Sartin said. "I can attend courses without missing work, which is why Drake has the best program available."
The MBA is backed by Drake University's full resources and reputation and is fully accredited by the AACSB — the international association for management education. For more information about Drake's MBA program, visit the College of Business and Public Administration Web site.
The Business Record published a story about the Drake MBA program in its Aug. 17 issue.