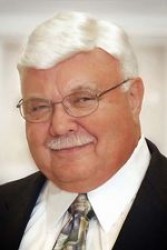 Wayne Merkley
Wayne Merkley, professor of biology at Drake University from 1969 to 2007, died Aug. 9 in Springville, Utah.
A native of Utah, Merkley returned to the state with his wife, Gretta, after retiring from Drake. The couple celebrated their 50th wedding anniversary this past April.
"Wayne had a passion for learning and an open interaction with his students, which is why he was so well liked," said Gene Lucas, professor emeritus of biology and Merkley's colleague. "He was adept at teaching subjects that weren't in his specialty area and his growing interest in microbiology was one of the reasons he began teaching his important course on AIDS."
Merkley raised awareness about preventing the transmission of the AIDS virus through his course and by giving public lectures on AIDS awareness and prevention. His course also addressed the history and ramifications of the disease.
He joined Drake after earning a bachelor's degree in education, a master's degree and a doctorate in limnology from the University of Utah.
Limnology, the study of bodies of fresh water, was a major focus of Merkley's research during his career at Drake, especially in aquatic biology and the biological aspects of water pollution. Merkley undertook major studies of the Des Moines River, researching biological and ecological conditions before and after the construction of the Saylorville and Red Rock reservoirs.
Merkley received tenure in 1973 and was promoted to full professor in 1980.
In addition to his wife, Gretta, Merkley is also survived by four children, Clark and his wife Sheryl of Springville, Utah; Elaine Schaffner and her husband, Richard, of Goffstown, N.H.; Brian and his wife, Leslie, of Highland, Utah; and Jean Cooper and her husband, Gary, of Bennington, Neb.; his 11 grandchildren; brothers Glade, of Arcadia, Calif.; Nelson of Ft. Wayne, Ind.; and sisters Delores Horton of Beaver, Utah; Jean Hawkins of Farmington, N.M.; and Margaret Snow of Salt Lake City.
Visitation in Springville will be from 6 to 8 p.m. Friday, Aug. 14, at Wheeler Mortuary and from 8:30 to 9:30 a.m. Saturday, Aug. 15, at the Kolob 12th Ward Chapel. Funeral services will begin at the chapel at 10 a.m. Saturday, Aug. 15, followed by interment at 2 p.m. at the Mt. View Cemetery in Beaver, Utah.
In lieu of flowers, donations may be made to the Perpetual Education Fund, 15 E. South Temple, Salt Lake City, Utah 84150.