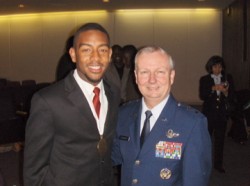 Drake junior Lawrence Crawford and his mentor, Major General Randall Fullhart, at the Hesselbein Student Leadership Summit.
Two Drake University students were among 50 selected nationwide to attend the inaugural Hesselbein Global Academy for Student Leadership and Civic Engagement's Student Leadership Summit. The summit was held in July at the University of Pittsburgh.
Founded by Frances Hesselbein, an expert in contemporary leadership and author of numerous books on the subject, the Hesselbein Global Academy's mission is to inspire accomplished students and refine their leadership skills through mentoring and training.
Jharmaine Boyd from Chicago, Ill., and Lawrence Crawford, a native of Kansas City, Mo., were selected to attend. Boyd graduated in May with bachelor's degrees in accounting, international business and marketing and Crawford is a junior majoring in public relations and international relations.
Sentwali Bakari, dean of students, says he recommended Boyd and Crawford to the summit organizers because of their campus and community involvement, particularly as orientation leaders. "Participating in the Student Leadership Summit allowed these students to enhance their leadership skills and experiences," Bakari said. "Our students were able to compare and assess their leadership qualities with their peers and professional mentors from around the country. They were also able to network and make contacts, which is invaluable. We hope more Drake students will be accepted into the program in the future."
At the summit, students were broken into small groups and placed with a professional mentor. The mentors worked through various exercises with students.
Boyd says the most beneficial experience was an exercise called "Finding My Purpose as a Leader" that helped students identify their areas of interest. The mentors worked with the students to develop action plans to become effective and inspiring leaders in these areas.
"This activity led me to search for my purpose, gave me the courage to overcome difficulty and begin an action plan to bring my purpose to life," Boyd said. "I have decided to go into Chicago's middle and high schools and speak to young people about enriching diversity in a globally changing world."
Crawford's mentor was Air Force Major General Randall Fullhart. The students were encouraged to keep in touch with their mentors for assistance with their action plan. Crawford's plan is to look into ways to improve education in the Des Moines Public Schools.
"In Kansas City, the youth advocacy office in city hall had a youth commission to help us express our concerns about our education," Crawford said. "I want to see if starting something similar in Des Moines would help ensure each student receives the education they're worthy of."