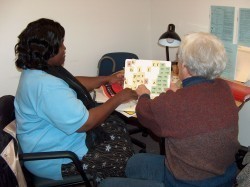 Madelyn Davis, left, works with her tutor, Joanne Brown, a retired Drake English professor.
Drake University's Adult Literacy Center will be showcased at the Central Iowa Works Tent on the Grand Avenue Concourse as the Iowa State Fair opens on Thursday, Aug. 13.
Opening day of the fair has been designated Central Iowa Works Day. Drake's Adult Literacy Center and other organizations receiving funding from Central Iowa Works will be represented at the Iowa Works Tent.
The center's staff and its students will be there to share information about the center's services.
The mission of the Adult Literacy Center is to improve literacy among its students, resulting in enhanced self-esteem, daily living and lifelong learning. Utilizing volunteers and new technologies, the center strives to improve the quality of adults' lives by helping them learn to read, write and comprehend.
For more information about the center, call 515-271-3982 or visit the center's Web site to find out more about services and volunteer opportunities.