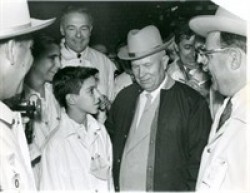 Harry Bookey meets Nikita Khrushchev after the Soviet leader toured his father's meatpacking plant.
Drake University will host a dinner and public lecture as part of the
statewide commemoration of Soviet Premier Nikita Khrushchev's 1959
visit to Iowa.
The Communist leader came to Iowa to see Roswell Garst, who had
invited him to tour his Coon Rapids farm in order to share with the
Soviets the advances that Americans had made in mechanized grain
production, especially hybrid corn.
Khrushchev also spent time in Des Moines, staying at the Hotel Fort
Des Moines and visiting a meatpacking plant owned by Lester Bookey,
father-in-law of Drake trustee Pamela Bass-Bookey. Her husband, Harry
Bookey, was 11 at the time of the visit.
Bookey recently recalled tagging along on the plant tour, watching
Khrushchev munch a hot dog and having his photo taken with the
dictator. "He put his arm around me and I said something about how the
Soviets beat us to the moon, but we Americans make better hot dogs."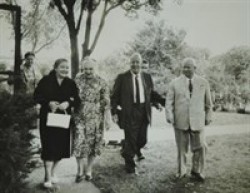 Nikita Khrushchev, right, and Roswell Garst with their wives at the Garst farm.
Lecture to feature Khrushchev's biographer
Scholar and author William Taubman,
who won the 2004 Pulitzer Prize for his biography of Khrushchev, will
be the featured speaker at a free lecture at 7 p.m. Aug. 27 in Sheslow
Auditorium in Old Main. His lecture, which is part of the AViD Series sponsored by the Des Moines Public Library, bears the same title as his book — "Khrushchev: The Man and His Era."
Sergei Khrushchev,
son of Nikita Khrushchev, also will speak at the lecture, sharing his
recollections of his family's visit to Iowa during the icy depths of
the Cold War. Drake President David Maxwell will then moderate a
question-and-answer session with the two speakers. A book signing and
reception will follow.
President Maxwell holds a bachelor's degree in Russian area
studies from Grinnell College and master's and doctorate degrees in
Slavic languages and literatures from Brown University.
He was a Fulbright Fellow in Moscow from 1970-71. He first toured
the Soviet Union in 1962 as a band boy for the Benny Goodman Band,
which included his father, legendary jazz musician and lead trumpet
Jimmy Maxwell. During the tour, Maxwell had the opportunity to meet
Nikita Khrushchev briefly at the U.S. Embassy's 4th of July party.
"The band was invited to play at the party and Premier Khrushchev stopped by to shake hands with everyone and congratulate us on the anniversary of our revolution," Maxwell recalled.
The lecture will be preceded by a dinner for Sergei Khrushchev and
the Russian delegation of political and business leaders visiting Iowa
to commemorate the 50th anniversary of Khrushchev's visit. The dinner
will include a traditional Russian welcome toast presented by President
Maxwell.
Also attending the dinner, hosted by President and Madeleine Maxwell, will be:

Numerous members of the family of Roswell Garst
Drake faculty, staff and students, including eight students from Russia
Sponsors of the "Khrushchev in Iowa" 50th Anniversary events
Learn more about Khrushchev's visit to Iowa and the full schedule of 50th anniversary events at http://www.creatinggreatplaces.org/Khrushchev.aspx.