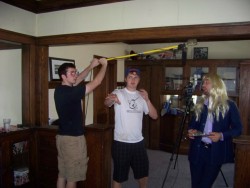 Drake students Joe Barlow, Tom Rapp and Dan Haymes discuss a scene for "Spookytechture," filmed as part of the 48 Hour Film Project.
Two days. 48 hours. It's not a lot of time to complete a paper for class or a project around the house, let alone conceive, shoot, edit and complete a film. But that's the challenge two groups of Drake University students decided to take on when they participated in the 48 Hour Film Project.
Created in 2001 in Washington, D.C., the 48 Hour Film Project has grown into an international competition, with events held in 70 cities, including Des Moines. Competitions take place on the weekend, beginning on Friday night when teams receive a genre for their film plus a prop, character and line of dialogue that must appear in the movie. Then, they have 48 short hours to write, shoot, edit and submit their work.
The first Drake team, Talkie Pictures, consisted of:
Thomas Rapp, a senior radio and television journalism major from Glenview, Ill.
Joe Barlow, a broadcast news and journalism major from Lindenhurst, Ill.
Dan Haymes, a senior in theatre and music from Berwyn, Ill.
Talkie Pictures was given "ghost movie" as a genre and created "Spookytechture," a humorous film about two roommates who move into a house haunted by a murdered architect. The perpetrator of the crime is the victim's rival, one of the world's most famous architects. To see the film and learn whodunit, visit
http://www.youtube.com/watch?v=xN0tR_WxH_I
.
Unfortunately, a glitch with Talkie Pictures' computer while they were burning a DVD of their film for submission prevented them from meeting the deadline, disqualifying them from having their film viewed by the judges. However, they were still able to present it during the Des Moines screening at Fleur Cinema.
"I was nervous during the screening because I wanted people to enjoy our film," Rapp said. "As soon as people laughed at the first place I wanted them to, I relaxed. Even though we were disappointed the judges couldn't view our film, the Des Moines 48 Hour Film Project director told us he really liked it."
The second Drake group, OX Productions, included five students. They submitted their film with only seconds to spare, according to Blake Weihs, team leader and a senior majoring in information systems from Urbandale.
Friday, after receiving their genre, the team met at Drake Diner for dinner and began writing a script, which was completed at 1 a.m. On Saturday, the team gathered at 8:30 a.m. and filmed until midnight. Filming finished and Weihs edited through the night and all day Sunday until it was time to submit the film.
"We didn't even have time to watch a final cut of the film before turning it in," Weihs said. "The first time we saw the finished product was during the screening, and it transferred well to the big screen."
Weihs' team borrowed cameras and tripods from Drake, and filmed "Progress Note" at businesses, apartments and streets in the neighborhood surrounding the University.