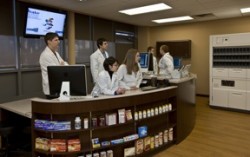 Drake pharmacy students will mentor high school students in a hands-on learning environment.
Before the school year even begins, a group of Des Moines high schoolers will have the opportunity to explore a possible future at Drake University and a career in pharmacy through Drake's "Discover Drake, Explore Pharmacy" program.
Students will take part in hands-on lab experience that will teach them techniques, such as how to prepare, dispense and administer medications. They also will learn ways to advise patients on using medical devices, including inhalers.
"We are excited to be able to make pharmacy a possibility for students who may not have thought about it as a viable career option," said Renae Chesnut, associate professor of pharmacy practice. "The program will give Des Moines students the opportunity to come to campus to learn about the pharmacy profession through real world pharmacy practice experiences and interacting with current pharmacy students."
The students also will participate in activities introducing them to undergraduate college studies, the world of pharmacy and pharmacy education. Participants will be paired with Drake pharmacy students who will serve as mentors for the high schoolers.
"These students will also hear about national health care reform and its impact on pharmacy, as well as learn about the application process and educational requirements to enter the profession," added Chesnut, who also serves as associate dean for academic and student affairs in the College of Pharmacy and Health Sciences.
As participants in the Drake program, students will visit campus one day each summer as well as one evening each semester. On occasion, the students' parents or guardians will be invited to campus to learn about financial aid and parenting college-bound students, among other topics.
"The partnership between Drake's pharmacy program and the Des Moines Public Schools GEAR UP program creates a unique opportunity for students to experience college life and relate their high school science coursework to a career in pharmacy," said Nancy Wright, coordinator for GEAR UP for the Des Moines Public Schools. "It's a fabulous way for students to learn more about the possibilities that could be part of their future."
The program is made possible by a grant from Walgreen's with the purpose of developing, implementing and supporting programs that will have a positive impact and gain more diversity within Drake's pharmacy student body. "We are appreciative of Walgreen's support, which has allowed us to offer a quality program that informs, encourages and prepares students for future college experiences," Chesnut said.
In the past, Drake has hosted students from eight area middle schools who participated in the
GEAR UP program
. The initiative aims to help students prepare for postsecondary education. The national initiative is supported by the U.S. Department of Education and carried out by more than 15 organizations in Des Moines, including Drake University.