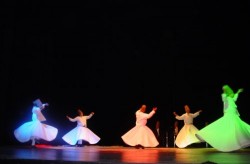 The performers move around the stage in a spinning meditation.
Spiritual music and dance will fill the stage as the
Whirling Dervishes of Rumi
perform ritual song and movement at Drake University on Thursday, Aug. 13.
The show will begin at 7 p.m. in Sheslow Auditorium in Old Main, 2507 University Ave. Doors will open at 6 p.m. with a prize drawing in which winners will receive classical Turkish art products.
The Turkish group members adorned in long, flowing robes, will move around the stage in a spinning meditation as they portray teachings of the 13th century scholar and poet Rumi. The show also will feature the sounds of reed flutes and drums and chants that have been used since the days of Rumi.
The Whirling Dervishes rituals stem from the Sufi tradition of Islam. The performance aims to convey and symbolize the religion's values of love and service throughout the world.
Tickets are free for Drake students, faculty and staff members.
The event was organized by the
Iowa Dialog Center
and the Iowa branch of the Niagara Foundation.
Drake joins the following organizations in sponsoring the event;
Buena Vista University
Des Moines Area Community College
Ebru TV
Iowa Dance Theatre
Konya Metropolitan Municipality
Society of Peace and Dialog at Iowa State University
The Fountain
Today's Zaman
Turkish American Society of Chicago