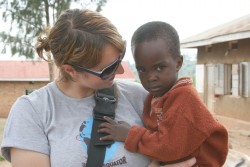 Juliann Van Liew interacts with one of many Ugandan children Drake students met with.
Accepting a piece of bread from a small Ugandan child was just one of the eye-opening experiences Drake students had during their 19-day trip to Africa.
"I will never forget the moment when this boy gave up half of his lunch to a strange foreigner," said Jess Hoffert, a magazine and broadcast news major from Winona Minn., who documented the trip in a
YouTube video
.
"What an inspiration to be less selfish in this troubled world."
It was that type of experience that Deb Bishop, assistant professor of practice in management, was hoping the students would gain.
Sixteen Drake students recently returned from Uganda for the "Sustainable Development in Africa" travel seminar accompanied by Bishop, along with Tom Root and Ugandan-born Jimmy Senteza, both associate professors of finance at Drake.
"The main objective of the course is to get students thinking about what sustainable development means, especially to a developing country," Bishop said.
"But we also expect students to have a realistic perspective of what is going on in that part of Africa."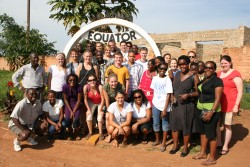 The Drake and MUBS group gathers for a photo by the Equator.
Through the opportunities provided by MUBS and their interactions with Ugandan students, each of the Drake undergraduates wrote a final paper that investigates an aspect of Ugandan sustainable development.
The paper topics have ranged from freedom of the press to the impact of security measures in affluent residential areas.
In one arranged meeting, the Drake group was also offered a hopeful glimpse of the developing country's future.
"One of the most exciting parts of the trip was meeting with one of the country's very successful entrepreneurs in telecommunications," Bishop said.
"It is the growing number of people like him who will make the big changes that Uganda needs right now."
The students were also afforded cultural exchange opportunities, including a visit to Queen Elizabeth National Park and a performance by the Ndere dance troupe.
Descriptions and reactions to these and other events attended by the group can be found in their collaborative
blog
and photos are available in an online
gallery
.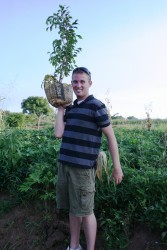 Korey Deberg proudly displays the eucalyptus tree he planted along a dirt road.
Drake ties to Uganda continue to grow
During the visit, Dr. Colin Sentongo, chairman of MUBS, also invited each member of the Drake group to plant a eucalyptus tree along a dirt road in an area near his home.
"The chairman told us there is going to be a residential area in the neighborhood in five years," Hoffert said.
"He hopes to name that first street 'Drake Boulevard'. That would definitely be worth seeing someday."
Bishop said she hopes Drake's relationship with MUBS will grow over time, alongside those same trees, and expand into future programs.
"We would like to eventually reciprocate the cooperation we have received from the professors and students at MUBS," Bishop said.
"Many of their students have shown interest in Drake graduate programs and we would love to set up an exchange program."