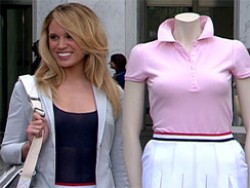 Drake graduate Laura Kudia models an outfit on the CBS "Early Show."
One Drake graduate is finding career success both in the office and on the runway, thanks to a freelance position with InStyle Magazine.
Laura Kudia made her nationwide debut while modeling fashion ideas from InStyle on the CBS "Early Show"– an opportunity gained through her work as a graphic designer for the magazine.
The segment — "From Fitness to Fashion" – aired July 1 and featured a story of the same title from the July edition of InStyle, which regularly partners with the "Early Show" to showcase the magazine's stories.
Kudia, who graduated with a degree in magazine journalism in May, first left for New York City even before taking spring semester finals. She began a month-long design internship at Seventeen Magazine and was able to finish her degree while already in her career field.
Her experience at Seventeen and networking connections with Drake alumni in New York quickly led to a freelance position with InStyle. As a freelancer, Kudia's typical duties include assisting with photography, preparing images for layouts and checking and designing layouts.
However, when asked to model, she took the chance to work in another facet of the industry.
"Eventually, I'd love to be an art director," Kudia said. "The economy makes it tougher to land my dream job faster, but I have to be patient, persistent and willing to adapt to changes in the job market."
She also quoted author Robert Kiyosaki, saying: "'Education is what you learn after you leave school.' With unemployment rising, now more than ever we have to learn how to differentiate ourselves from the pack and find opportunities."
Kudia is continuing to apply for permanent work while building connections with fellow alumni as she completes her six-month position at InStyle. She also is doing freelance work on the side for smaller start-up magazines in New York.
In addition, Kudia has continued to work on projects at Seventeen and is set to be featured — wearing Drake attire — as part of a college spread in the magazine's October issue.