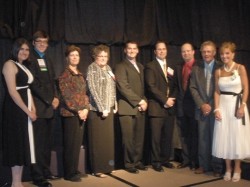 Farah Towfic, Ben Urick, Katherine Linder, Alyce Steig, Rockford Anderson, Kevin Cassatt, Kyle Peters, Jim Miller, & Renae Chesnut.
In an electronic ballot, the membership of the Iowa Pharmacy
Association, an organization formed to advance the practice of pharmacy
in Iowa through education and research, elected seven pharmacists to
serve as officers and trustees for the 2009-2010 administrative year at
the last meeting in Cedar Rapids, IA including the following Drake
alumni: Bob Stessman, President; Renae Chesnut, President-Elect; Kyle
Peters, Region 2 Trustee; Kevin Cassatt, Region 4 Trustee; Brian
Benson, Trustee at large; Katherine (KAP) Linder, Trustee at large; and
Rockford Anderson, Trustee at large (biographical information follows
below). New board member biographical information is provided below.
Congratulations to the new Board members; their service to Iowa
pharmacy is important and appreciated.

President
Bob Stessman '82
Bob co-owns and operates Manning Pharmacy, Inc. with his wife Lois
in Manning, IA. He is the consultant pharmacist for the Manning Family
Recovery Center, Manning Regional Healthcare Center, and a member of a
consulting team for Manning Plaza Long Term Care Center.
Stessman is also the staff pharmacist for Manning Regional
Healthcare Center. He assists with pharmacist services for New Hope
Village and Quakerdale group homes in Manning. Bob is a graduate of
Drake University College of Pharmacy and Health Sciences. Bob served on
Drake's National Advisory Board and has been a guest lecturer. Stessman
is a member of IPA, APhA, NCPA, ASHP, NACDS and Southwest Iowa
Pharmacists Association. He has served on the Manning Development
Foundation, chair of the Planning and Zoning Commission, Rotary, and
Past President of the Chamber of Commerce.
Bob is a past participant in the Young Pharmacist Leadership
Conference. He has served the following IPA committees: Young
Pharmacists, Legislative, Professional and Public Affairs and several
task force meetings. Stessman held positions as chair of the Academy of
Pharmacy Practice, and Speaker of the House of Delegates and has served
as the IPA treasurer for 2 years.
---
President-Elect

Renae Chesnut '85

Renae is Associate Dean
for Academic and Student Affairs and Associate Professor at Drake
University College of Pharmacy and Health Sciences. She received her
bachelors in pharmacy and masters in business administration degrees in
1985, and in 1998 a doctorate in educational leadership, all from Drake
University. She serves as coordinator of Drake's Developing Skills in
Diabetes Care certificate program, and is a team leader for Drake's
DELTA Rx Institute Team.
Her IPA involvement includes service on
the Iowa Pharmacy Recovery Network (IPRN), and the 2000-2002 Board of
Trustees, representing Region 3. Chesnut is a past participant of the
Iowa Pharmacy Leadership Conference and has completed the AACP
Leadership Fellows program.
In addition to involvement in IPA, Renae is a member of the
National Community Pharmacists Association (NCPA), and the American
Association of Colleges of Pharmacy (AACP). She is a past president of
the Central Iowa Pharmacists Association (CIPA), and a member of the
Healthy Iowans 2010 Diabetes Chapter Team as well as AACP's
Professional Affairs Committee. She is a previous chair of the
Pharmacy College Admission Test (PCAT) Task Force, a previous chair of
the AACP Student Services Special Interest Group, and was a founding
member of the AACP Centralized Admission Service Task Force.
---
Trustee At Large
Brian Benson '96
Brian D. Benson is the
Pharmacy Operations Manager for Iowa Methodist and Blank Children's
Hospital. Brian graduated from Drake University in 1996 and received
his Pharm.D. from the University of Kansas in 2006.
Brian has practiced in retail pharmacy in addition to his primary
focus of health-system pharmacy.Brian is a member of IPA, ASHP, past
vice president of the Iowa Pain Institute, Treasurer and Past President
of Central Iowa Pharmacists Association. Brian has been programming
committee chair for ASHP's Inpatient Care Practitioners section for 2
years and is currently Director-at-Large for this section. Brian is
also a member of IPA's Health-System Liaison Board.
---
Trustee At Large
Rockford Anderson '06
Rockford is a 2006
graduate of Drake University College of Pharmacy. Rocky was the
pharmacy manager for a small 15 bed hospital and a chain pharmacy for
the first 2 years out of school in and around Mason City. The Kmart
pharmacy that Rocky worked in for the last 2 years has added many new
clinical services. They are the only Kmart pharmacy now billing for
Iowa Medicaid case management. Kmart also now bills MTM services
through Outcomes, Mirixa, and is the lead store on a new Lipitor
adherence program through Pfizer. Kmart also now offers pharmacist
administered influenza and herpes zoster vaccines.
Rocky bought his first community pharmacy in Clarion, IA in October
2008, and hopes to bring similar clinical services to Clarion.
Rocky
has also continued to further his clinical knowledge by attending
ACCP's anticoagulation training program, and attending the Breathe Easy
(COPD and Asthma) event through the CEI institute.
Rocky has
been involved in IPA and served on committees since his second
professional year at Drake. Rocky feels that it is very important to
support and be part of such an important and influential organization.
The Iowa Pharmacy Association is the state society representing the
profession of pharmacy, united for the purpose of advancing public
health, particularly the pharmaceutical care of all Iowans. The Iowa
Pharmacy Association is organized to preserve and advance the interests
of the profession and to serve the professional needs of all
pharmacists, pharmacy students, and pharmacy technicians.