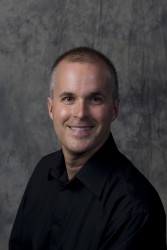 James Romain, associate professor of saxophone and associate director of jazz studies at Drake, is participating in the 15th World Saxophone Congress through July 14 in Bangkok, Thailand.
Romain will present the Asian premiere of Iowa composer Eric McIntyre's "Secondary Impressions for Baritone Saxophone and Piano." He will also take part in performing two new works for jazz saxophone quartet, Will Swindler's "Three Lyriclés," and "Huaihai" by Dan Martinez.
The jazz group, The New Third Stream, includes professors Rick VanMatre and James Bunte from the University of Cincinnati Conservatory-College of Music, and professor Peter Sommer from Colorado State University in Fort Collins, CO.
The
World Saxophone Congress
is the largest saxophone music festival in the world. The congress presents the most recent scholarship of musical concepts through the creative ideas of artists from around the world.